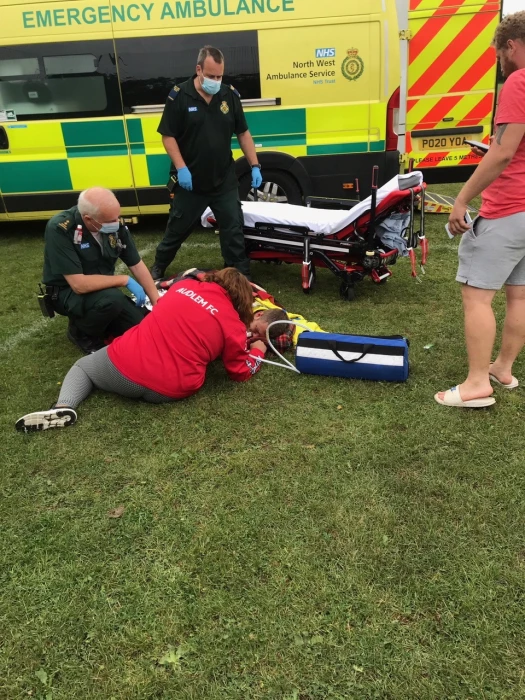 Big game ahead of us as we face JS Bailey in the first cup tie of the year. On a palindromic dated day. 12.9.21!
Turn out of players affective by festivals, family events and that very major injury to our star player, Ross Henderson -- who is undertaking operations and will be out for many a good while. Such are the perils of Sunday league football.
One of the good things for me, as I get ever closer to the end of my days, is that being surrounded by so many young people -18 to 38 , lifts me quite a lot .
Better than an injection of youth !
On that score, have you ever wondered who planted the thousands of oak trees that grace the Chesire country side. Many of which must have been placed by our Victorian forefathers. And . More importantly, as many of these trees come to the end of their days, who is replanting new oaks? A scary thought.
The game
As I said, a cup tie. The first of more to come as the season gets underway.
Referee today is Keith Curzon. All results must be given to The FA secretary at final whistle. At the playing field for 09.30 as we prep for the game. Manager Kev Mort always here well ahead of kick off and gets the nets up and corner flags in place.
Changing rooms in our super annexe checked for toilet rolls etc.
Emma Graham our professional physio already on site with her massage table treating players as they arrive . Getting legs in trim. John Dyer our trainer also here setting up the cones fir warm up routines.
Calm day but a chill in the air. Car park crammed along with roads nearby as a big cycle event taking place as well.
Referee Keith Curzon arrives. Very good fair referee and no histrionics as he controls the games very well.
Opponents arrive in number.
We kick off early as all ready to go . We in our red home hit and JSBailey in yellow .
10.50 Bells of St James pealing out in the calm air.
A smattering of rain as teams get going . Usual mass of testosterone fired action as each sides tears into each other. Pitch firm and dry . Fast move on their goal and a cross by Kev Rodgers so good, but no one there to score.
11.00 First of many free kicks to JSB but no gain. Very fast moving play. Rain still with us but light.
Play a bit scrappy at present.
11.07 A chance. Sam Mason comes close.
Corner for us, taken by Kev Rodgers whose ball is met by top scorer Nick Gregory. Good chance but not converted.
Play more or less "even stevens" .
11.16 Shot by Danny Mahoney, back again after a while away, but it lacked enough punch.
11.18 Attack by JSB and a high lob sent trying to beat Simon Carvell but Simon saves.
Sub as Danny M goes off with groin trouble.
11.20 Two chances to us but not converted .
Yet another corner to us . Good ball by Callum Mese flies across their goal but no one there to fire it home.
Superb play by Dan Rooney, who has played so very well on the wing, and he stops what looked like a sure chance of a goal by opponents. Good stuff Dan.
Overall we have dominated most of the play and have camped in their half for most of the game so far. Many chances at a goal, but none converted.


Half time 0-0.
If we can be less frantic in front of goal we must score. Great chance by Mese. Then he limps of . Injured. And Seb Burrows is on.
Thomas Capewell, our skipper has been so commanding in defence, winningvirtually every high ball .
More free kicks, as Kev Rodgers takes one just outside their box, but goalies saves his shot.
Sam Mason injured in a tackle and limps off. Tom Smart on.
11.59 Free kick taken by Paul Bowker. No gain.
Never have I seen so many free kicks.
12.00 Then. At last one that means something. Kev Rodgers fires the ball into a bunch of players in the box. Met by Andrew Betteley, who lashes it home. A goal!
1-0
JSB really losing their shape and getting rattled.
More free kicks, I reckon 20 or more so far!
12.05 JSB Goalie yelling to his players, to pull it together.
12.10 Corner to us. Punched away by their goalie. Andrew"Beco" Betteley floored. But ok
Ref tells player to cool it.
12.18 Great cross by Tom Smart , met by Beco -- who heads wide. Free kick taken by James Craig but tipped over the bar. Yet another corner and in the mass of players, defenders and attackers, JSB player goes down very heavily. Is flat out and immobile. Emma Graham our physio to his side. His right knee twists horribly and at right angles to his leg. Brad Jones is the player. Used to play for us. Play stops. And referee abandons the match. A kind spectator gets warm blankets from his car to keep Brad warm
Ambulance requested but we are told it will take 7 hours!! We make a very strong plea as Brad is is immobile and in much pain. Eventually arrives some 49 minutes after the incident. Loading him on brings out such screams of pain.
All disperse.
Latest from hospital is that given morphine, consultant has got knee back in place, and now checking for ligament damage.
There you go. The joys and the pains of Sunday football.
Next game at home on the 19th
Ralph Warburton
Audlem F C