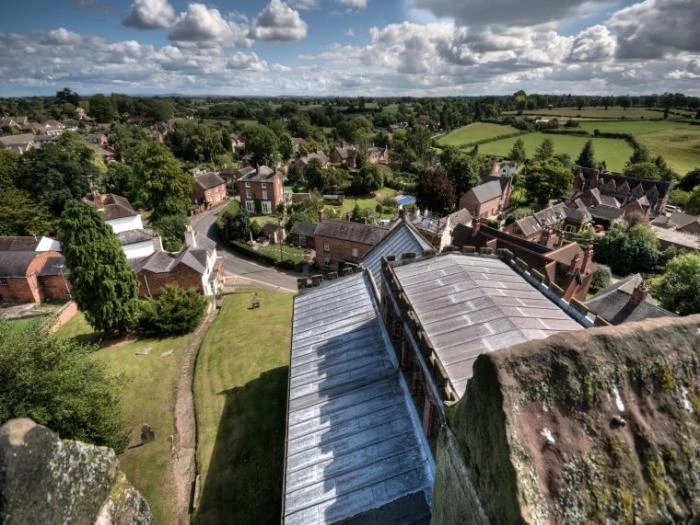 In early editions of this story, Val Morrey was accidentally named as Val Miliband, the well-known singing politician – apologies, Val.
Audlem Voices Choir is a delight, and always enjoyable, not only for its melodies and robust harmonies but also for the sheer joy of singing being self evident on the beaming faces of the singers who can raise the roof and break our hearts with their spine tingling performances.
Saturday's performance was no exception, from their now familiar opening version of 'We are the Choir' to their Grand Finale 'Time to Say Goodbye,' the audience were put through a gambit of stirring emotions, including humour, when Richard Percival gave a witty, wondrous, and wickedly entertaining version of 'Brush up your Shakespeare' from 'Kiss me Kate.' No matter that he forgot some of the words ' let's face it, if Ed Miliband can go on stage without a script, so could Richard! Confidence oozed from him as he boldly restarted and had the audience in tears of laughter! As he took his seat to thunderous applause, a lone voice from the audience echoed out, 'he was such a quiet boy.' Yes, his mother was in the audience!
Although there was little evidence of strip searching the audience as they entered the church, there did seem to be a distinct lack of flag waving for Val Morrey as she gave a heart warming solo rendition of 'Rule Britannia.' Once again the church roof was raised as the audience, fresh from watching the Last Night of the Proms, and full of national pride joined in the refrain! It had to be seen to be believed. a choir singing without words!
The music was gripped tightly and eyes were glued to the sheets as they performed the famous Rossini overture of 'William Tell.' This was a rollicking arrangement for a cappella chorus, the familiar melodies and vocal effects were challenging but obviously great fun to perform. It was hard for the choir to keep a straight face whilst singing this hilarious novelty arrangement. Sung entirely on syllables that imitate the sounds of Rossini's original orchestral percussion, brasses, and woodwinds, they performed tongue-in-cheek.
From the initial fanfare to the final cadence, the choir sounded great on the full chords and percussive "Lone Ranger" themes. Their Musical Director Jenny Collis-Smith beamed with pride as they all finished, amazingly, in unison!
Once again Yvonne Parker gave a beautiful solo rendition, this time she chose 'Once you Lose your Heart' from 'Me and My Girl.' Audlem Voices are indeed blessed with some talented singers.
No Audlem Voices performance can pass by without mentioning the name of Richard Lythall, their talented and personable accompanist, who's skilled aptitudes found him dashing between the piano and organ without any signs of sweat as he accompanied the choir with their rendition of Elgar's 'Requiem Aeternam,' a beautiful piece which starts with a solemn ambience and builds up to a powerful crescendo.
Saturday night's ADAS event gave much to savour in the choir's performance ' the voices blended well, entries were confident and the gentle and more lyrical passages flowed beautifully ' As the capacity audience stood up in time-honoured tradition, one could not help feeling that this was also a standing ovation in tribute to a village choir, not forgetting their talented and committed Musical Director Jenny Collis-Smith, who so evidently enjoy themselves and give pleasure to so many others.
Audlem Voices next performance, with Musical Director Jenny Collis-Smith, will be on Sunday, 14th December at 7.00pm in St James Church. This will be a combined Christmas Carol Concert with The Band of The Cheshire Constabulary and Corps of Drums with Musical Director David Woollam bringing his own unique humorous antidotes to the proceedings! Last year this concert was such an outstanding success that tickets will be limited – watch AudlemOnline for further details.
---
This article is from our news archive. As a result pictures or videos originally associated with it may have been removed and some of the content may no longer be accurate or relevant.