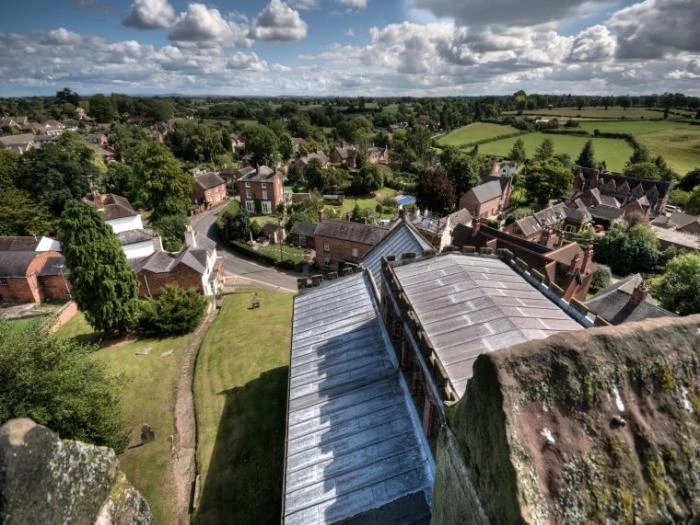 A Myriad Of Movement: A Plethora of Possibilities'..
Somewhere out there in the world of widely accepted ideas, there exists the notion that choral singers should stand still. Performing is just like a conversation ' with one person doing most of the talking.
However on Saturday 19th October, during a choral evening organised by ADAS, Audlem Voices encouraged their audience to join in and share in the fun! Not only had the choir been practicing their musical medleys, but it was beginning to feel suspiciously like they had also been having choreography instruction as well! Arms were flung wide; hands pointing at each choral section as they opened the evening with their signature piece 'We are the Choir'.
Having immediately gained our attention with their theatrical start, they then followed on with 'Swing Low', an 'Oliver Medley', 'Close Thine Eyes', 'Mamma Mia', and the beautiful 'Eriskay Love Lilt', before a rousing close to the first half with 'When the Saints go marching in'.
After a well deserved drinks break ' just short enough to stop the choir from popping over to the Lord Combermere, but long enough to lubricate their vocal chords, both the choir and their audience were anticipating an exciting and vocally rousing second half.
Refreshed and revitalised, Audlem Voices then launched into their second half with 'Sing a Song of Sixpence', 'Speed Your Journey', 'A Tribute to Queen', and for the more romantic in the audience, 'Moon River'. 'Joshua' and 'The Best of Bond' followed, and didn't the choir look dapper Bonds and Bond Girls in their matching attire ' before finally launching into 'Time to Say Goodbye.'
Our brilliant Musical Director, Jenny Collis-Smith, believes that when audience participation and music meet, the combined efforts result in an enjoyable experience on both sides, and this was obvious as we, the audience, brushed aside our nervousness and joined in several of the pieces. As we got braver, or some would say more foolhardy, we waved our arms in the air to 'We are the Champions,' and stamped and clapped ' mostly in time- to 'We will rock you.'
Who cared if the odd walking stick got knocked over or our faces got redder, we were having fun! Next time we'll remember to bring glow sticks to wave in the air!
Richard Lythall, our young, amazing and talented accompanist, who is also very easy on the eye, somehow managed to keep us all in control with a wry smile on his face! As the last notes from the choir died away, having given their all and with the very real, impending possibility of alcoholic lubrication drifting into their thoughts, more was to follow as the audience applauded loudly and stamped their feet to show their appreciation of what was an exhaustive repertoire for the choir, combined with an enjoyable audience participation ' they were demanding an encore!
Audlem Voices stepped up to the mark, as always, and performed their tear jerking finale with 'You Raise Me Up.' There was not a dry eye in the house!
Thank you ADAS for providing the free refreshments and arranging this annual enjoyable evening. You will be pleased to hear that ADAS raised enough profit to cover all of the spring bulb planting in Audlem from this concert- a very worthy cause.
Audlem Voices next performance will be in St James Church on December 15th, when they will be performing with Cheshire Constabulary Brass Band! Details will follow closer to the time, but please do come along and spend an enjoyable and rousing evening with us.
---
This article is from our news archive. As a result pictures or videos originally associated with it may have been removed and some of the content may no longer be accurate or relevant.