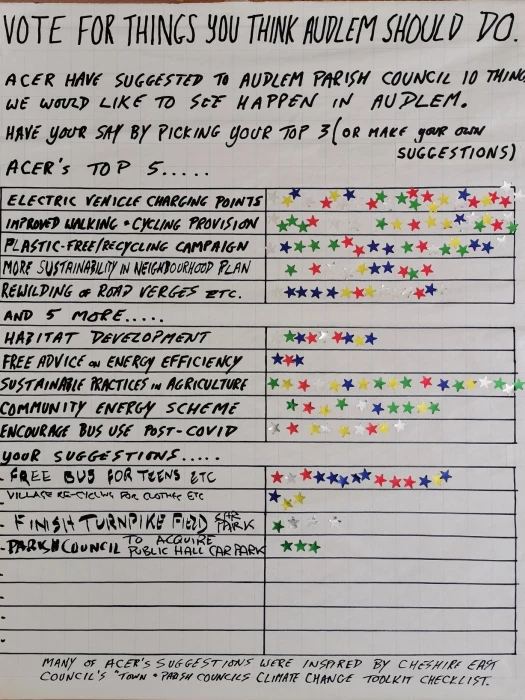 At Audlem's Climate and Nature Event recently held at the Buttermarket, the ACER team invited attendees to vote for 'Things you think Audlem should do' in relation to sustainability.
ACER had already sent 10 suggestions to Audlem Parish Council (many of which were inspired by ideas from Cheshire East Council's "Town and Parish Councils Climate Change Toolkit checklist). These suggestions are to be discussed at the Council's October meeting.
Voters at the event were invited to pick their top 3 of these ideas or make their own suggestions. Votes were cast by sticking paper stars against the ideas, as illustrated in the photo.
And the result was....... 4 ideas emerged as clears winners in the public vote:
Electric vehicle charging points (26 votes)
Improved walking and cycling provision (20 votes)
Support a plastic free / recycling campaign (18 votes)
Promote sustainable practices in agriculture (18 votes)
Each of these attracted more than 10% of the total votes cast and together accounted for over half of them.
ACER will be engaging with Audlem Parish Council with a view to seeing these ideas progressed as priorities in the eyes of the community. We'll keep you posted! But meantime, if you want to support some or all of the listed priorities or want to suggest other climate and nature related actions, please contact the Parish Council here.
The ACER team can also be contacted via our website here.