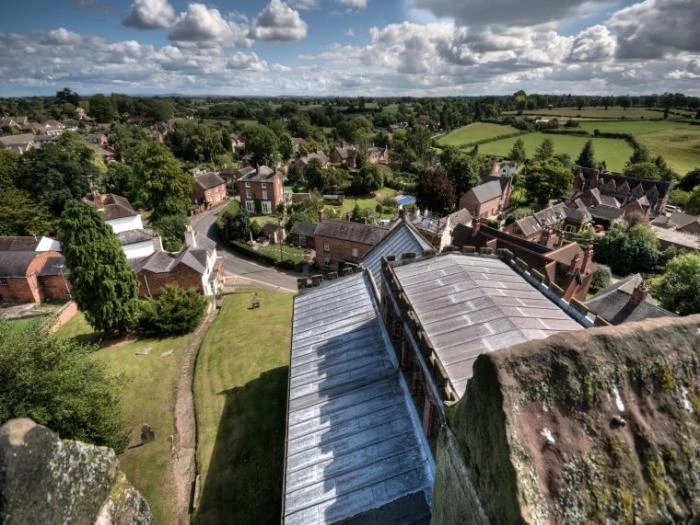 A summer's evening, full of promise, the eve of one of Audlem's favourite weekends – the Transport Festival.
The Scout & Guide Hall has indeed a reputation around the globe, people from Australia, New Zealand, USA, Far East and of course various European countries have enjoyed the Chillinights over the years, the small hall transforms into one of the best music venues, and Saturday probably surpassed them all visually.
The intimacy of the venue has always been a factor in the magic, for performers and audience, but the soul of the chilli nights is the secret ingredient that adds the flavour for the evenings.
Born out of the need to rehearse before a festival, Hollow Floor booked the hall for an afternoon, mainly to see how long it would take to set up the PA and perform the set. Just prior to the day one or two other musicians asked if they too could join in, and along with a chilli supper supplied by family and joined by a few friends, the idea was in the making.
Talent
A night where new talent could play in front of an audience, seasoned pro's could try out new material, new line ups could be formed, impromptu duos could jam, even established bands could turn up and play, the mix goes on.
This all really came together on Saturday evening, Hollow Floor Studios, Pete, George and Jack Marshall with a little help from Jue Harrison created a superb stage, imaginative and creative lighting and a sound that would have done justice to much bigger mainstream venues.
Mix
Then in the spirit of the Chillinights we had a mix of performers, a first solo gig for Ronan Haughey performing his own material and take on a cover of Ed Sheeran's cover of Blackstreet's 'No diggity'. For anyone who has ever done this for family and friends, add in an audience of a 100 people. Nerves yes, but delivered.
More nerves followed as Kelly Brammer took to the stage also for a solo slot, without Folkwits partner Dave Nettleton. This was a big step for Kelly and one that her fans have wanted to see, and she certainly gave more than a glimpse of her versatility.
The Folkwits are certainly one act that you never tire of listening too, and a solo Dave Nettleton is a performance to relish. Kelly has now taken that step and delivered a set that shows her vocal presence. Impromptu duo? Yes, we had that in Kel's set when Kirsty Marshall joined her on stage to perform The Staves 'Facing West', briefly rehearsed before the set and an unexpected jewel in the evening. More please.
New
So, to introduce something new, the Chillinight was graced by two different sounds from two fairly new acts to Audlem. Both had played Audlem before however, this was a first. Oli Ng is a talent, confident and with a stage presence that captures attention. What a lot of people do not realise is the talent that gigs in Audlem attract, performers love playing here and Oli is no exception. The reaction from the audience was proof enough that Oli was well received.
Then to Daisy Jaks, a different genre of music as four talented performers showed their versatility in musicianship and vocally. From just up the road in Norton in Hales, Anji and Sarah Hollinshead-Bland, Kathy Flavell-Smith and Joan Lister rolled up and delivered harmonies in their own style of acoustic folk pop with a great nod to Ian Anderson of Jethro Tull. For those too young to remember or if you need a reminder of Daisy Jaks' performance, just clickhere.
Farewell
For Blue Cafe, it was an emotional farewell to cellist Sally Keighley, and her family, as they depart for new beginnings over the Atlantic in the USA. Sally has added a new dimension to Blue Cafe with her cello and vocals as Blue Cafe introduce new material in to their set list.
Blue Cafe's set featured a mix of their material, some classic Blue Cafe and some new Blue Cafe material, the band has evolved the sound that is diverse yet maintains that Blue Cafe feel that is instantly recognisable. The vocal mix still retains Alg's distinct edge with Val's contrasting vocal, add in the masterful guitar solo's and driving rhythm guitar, percussion and bass, a touch of cello and the lyrics really come alive.
Effort
A lot of effort goes in to a Chillinight, but it's driven by a willingness that a group of like minded people bring together to enjoy a night of good music in good company, that makes it easy to put on. The support from all those that attend is key, the response from last Saturday suggests that this is one party that will roll on and on, it was good!
Ian H
---
This article is from our news archive. As a result pictures or videos originally associated with it may have been removed and some of the content may no longer be accurate or relevant.