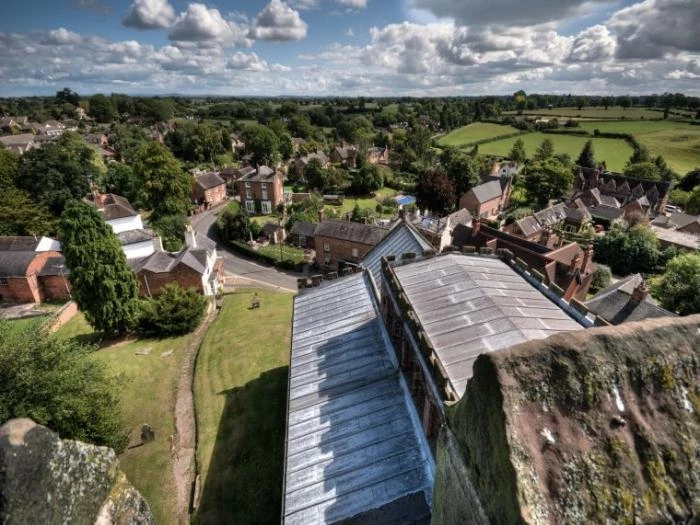 The Audlem War memorial list of those fallen in the Great War of 1914 – 18 starts, alphabetically, with Henry Noel Atkinson, DSO.

We have been sent the following information which will be of interest to many, particulary as 11/11/11 approaches with the ASET-organised Exhibition and film on that day in the Public Hall.

2nd Lieutenant Henry Noel Atkinson was born at Audlem Vicarage on Christmas Day 1888, son of Reverend Arthur Atkinson and Ursula Mary Atkinson (née Cotton-Jodrell).

He was educated at Moorland House, Heswall, Cheshire; Charterhouse School and St John's College, Cambridge.

Champion Golfer

Before the War, Lieutenant Atkinson had been a keen golfer and was, in 1914, the reigning Amateur Champion of Wales. He won the championship at his first appearance at a Welsh Union meeting, beating Mr. C. H. Hamilton in the final at the thirty-eighth hole.

Cheshire Regiment

He joined the 3rd Battalion (Special Reserve), Cheshire Regiment in March 1913, joining the 1st Battalion for training on 1 November 1913. On mobilisation he embarked for France with the 1st Battalion on 14 August 1914.

Lt Atkinson's DSO may have been related to the Distinguished Conduct Medal awarded to 7085 Private McCarthy of the 1st Battalion Cheshire Regiment, whose citation reads:

"On 15th September, at Missy Sur Aisne, volunteered to fetch ammunition under fire, and at night, at the imminent risk of being shot by both friend and foe, assisted 2nd Lieutenant Atkinson to rejoin his company".

Lt Atkinson was later mentioned in Sir John French's Despatch of 14 January 1915 "For gallant and distinguished service in the Field."

Promoted but long dead

He was promoted to Lieutenant on 2nd February 1915, but by this time, he was long dead. He had served unscathed through the fighting at Mons, Le Cateau and The Aisne until 22nd October 1914, near La Bassée, at Voilaines, where he won his D.S.O. However, after the battle he was reported officially "missing" and was believed to have been captured.

He was thought to have been wounded and was reported, unofficially, to have been taken to a French hospital at Douai, which was eventually taken by the Germans.

His award of a DSO was reported on 1st December 1914. His citation read: "Henry Noel Atkinson, 2nd Lieut., 3rd Battn, The Cheshire Regiment. For conspicuous gallantry under heavy fire from both flanks by collecting a few men and checking the enemy, thereby facilitating the retirement of his comrades."

The Battalion War Diary for 22 October 1914 states:-

"5.10 a.m. Enemy made heavy attack, and took the trenches at the point of the bayonet. Battalion retired to Rue du Marais under very heavy fire. Manchesters came up in support.
8.0 p.m. Battalion withdrawn and went in bivouac at last E of Rue de Bethune.
Casualties: Captains Shore, Rich, Hartford, 2/Lieuts Atkinson, Leicester, Greenhalgh missing, Captain Forster, 18 N.C.O.s & men wounded, 200 N.C.O.s & men missing including Sergeant Major."

'Two Graves'

After the War, as no grave could be found, Lt. Atkinson's father had a tombstone laid where it was believed his son had fallen.

In 1923, however, the body was found and reinterred in Cabaret Rouge British Cemetery (Grave XIII. E. 12). The Cheshire Regiment had the redundant stone moved to Violaines Communal Cemetery, the result being that Lt Atkinson has 'Two Graves.'

Lt Atkinson's mother, Ursula Atkinson, later retired to Poole and lived in a house called Audlem House. Canon Atkinson's grave is in Audlem cemetery.

Our thanks to Judy Benson who sent us this fascinating information on one of the fallen commemorated in Audlem and to Celia Bloor for additional details.
---
This article is from our news archive. As a result pictures or videos originally associated with it may have been removed and some of the content may no longer be accurate or relevant.