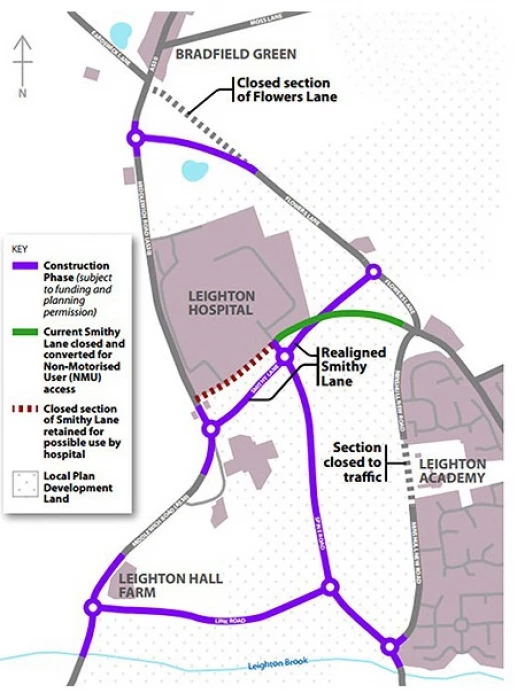 editor's note:- we thought we would re-post this to remind everyone that this work has now started and will last for the next 80 weeks! Getting to Leighton Hospital will take more time
During the next two years (scheduled for some 80 weeks! to complete in March 2024) there will be some major road works and other developments in the Leighton Hospital area.
This project is known as the North West Crewe Package, and detailed information can be found about it here.
The whole plan includes significant changes to roads in the area to serve the Hospital and new and existing Housing developments.
The plan shown here is copied form the NWCP document.
From the point of view of Audlem area residents using the Hospital, it means that for two years we will have to contend with a continuously changing set of road closures and alternative routes, as well as the usual issues associated with parking at the Hospital.
A530 closure from May 9th
The Press Release includes the following:-
As part of the works, various closures will be in place along the A530 Middlewich Road from next month until around March 2023, beginning on Monday 9 May with the closure of the road between its junction with Pyms Lane and Smithy Lane.
Further information of the closure and the diversion route can be found here.
Basically, from May 9th and for some time (perhaps a year) the way to get to the Hospital is to avoid the A530 Middlewich Road altogether, and use the new road off the Crewe bypass to go up the Western side of the Town and approach the Hospital from that side.
Hopefully there will be proper diversion signs in place by the time all this starts.