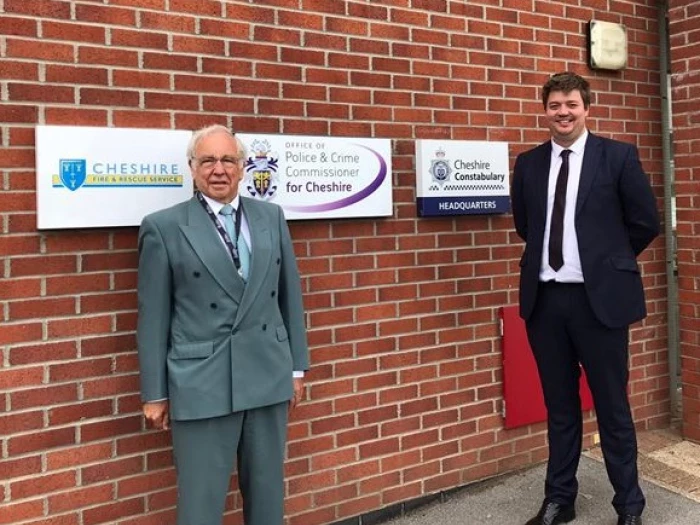 PCC pledges 100,000 for crime prevention
Community organisations in Cheshire who are working to prevent crime and anti-social behaviour are being urged to apply for a new fund.
Police and Crime Commissioner John Dwyer has launched his Community Action Fund making more than £100,000 available for projects which make a real difference to their local community.
The funding is aimed at new projects or initiatives which will deliver community safety or crime prevention activities.
This could include, but is not limited to, projects that support victims, protect vulnerable people, tackle anti-social behaviour or drug issues, improve road safety or promote a safe night-time economy.
PCC John Dwyer said: "Preventing crime and anti-social behaviour requires a community effort with local police teams working with other public services and local residents to solve issues at a neighbourhood level.
"There are so many organisations across Cheshire who have a real passion and drive for making their communities safer that really want to make a difference.
"My Community Action Fund will empower them and provide the necessary resources to get some of these really crucial projects off the ground.
"I look forward to seeing the difference these projects make right across Cheshire."
Individual bids of up to £5,000 can be submitted by applicants who are working with their local policing team to address local priorities.
All bids must be match-funded to provide maximum benefit to local communities. With match-funding, up to £200,000 could be invested into crime prevention in Cheshire over the next 12 months.
For more information about the fund and to apply, please visit: https://www.cheshire-pcc.gov.uk/what-i-do/making-cheshire-safer/community-action-fund/
PCC appoints deputy
Cheshire's Police and Crime Commissioner (PCC) John Dwyer has appointed David McNeilage as Deputy Police and Crime Commissioner.
Mr McNeilage, who was John's Campaign Manager during his election campaign, will support the Commissioner in his role to hold the Chief Constable to account and to be the voice of Cheshire residents on all issues relating to policing and crime.
He will deputise for the Commissioner in his duties – in particular, attending community engagements and public meetings when the Commissioner is unavailable.
David went before the Cheshire Police and Crime Panel on Friday (11 June) for a confirmation hearing where it recommended the appointment with unanimous support.
The Panel is made up of independent members and a cross-party representation of local councillors who support the PCC in his function of holding the police to account and also provide a role in scrutinising the PCC's decisions.
The Panel is required to hold a confirmation hearing within three weeks of being notified of the Commissioner's preferred candidate.
PCC John Dwyer said: "I'm really pleased to appoint David to this role and I would like to thank the Police and Crime Panel for their support in making the appointment.
"David worked very closely with me during my election campaign and has a sound knowledge of the diverse communities across Cheshire and also its diverse geographic, social and economic nature.
"He has knowledge and an understanding of the operation of the police service and the criminal justice system. Furthermore, his knowledge of the process of government is highlighted by his time working in Parliament for a local MP.
"In addition, I am satisfied that he has all the other skill sets which are needed to carry out this role and that he will be a fantastic addition to the team."
Deputy Police and Crime Commissioner McNeilage will join the Office of the Police and Crime Commissioner on Monday 21 June.
He said: "I am delighted to be appointed into the role of Deputy Police and Crime Commissioner for Cheshire and I'm looking forward to working alongside such a capable and experienced Commissioner.
"Both John and I share the ambition to make Cheshire Constabulary an outstanding force and I can't wait to get started in the role."