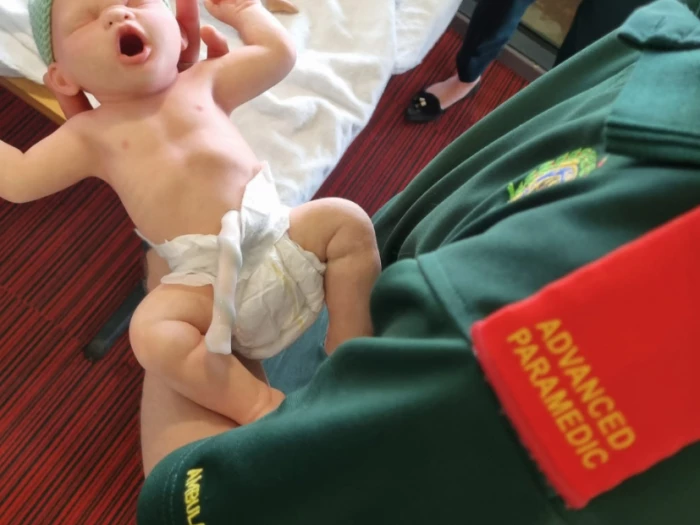 Special maternity training and equipment for ambulance crews
North West Ambulance Service (NWAS) has introduced special maternity training and equipment for its ambulance crews to enhance emergency care given to pregnant women in the North West.
Last year, we handled over 24,000 NHS 111 and 999 maternity-related calls combined from across the North West. This can include providing urgent and emergency care to pregnant women and babies suffering from complex health complications or when these patient groups may require transfers into hospitals.
Providing safe and personal maternity care to our patients is important and we have invested in a pre-hospital training package by PROMPT Maternity Foundation Charity to enhance this.
The training is the first of its kind to be delivered within the emergency service at NWAS and funding was secured for it by our Consultant Midwife, Stephanie Heys, from Cheshire and Merseyside's local maternity systems and Health Education England (HEE).
Stephanie says: "This brings so many opportunities for us as an organisation to work and train together with our local maternity units and community midwifery teams''
"The first sessions which took place in Merseyside in May was well-received by clinicians in Team NWAS. Looking ahead, we would like to partner with local maternity systems across the NWAS footprint to secure additional funding and scale this training across the region."
Catherine McLennan, Director of Women's Health and Maternity (WHaM) Programme, Cheshire and Merseyside Health and Care Partnership said: "We are delighted to partner with NWAS and support another great initiative which puts the safety of women and their babies at the heart of care. Multi-disciplinary teams who train and work together are essential for continuous improvement, and we look forward to all other LMSs following this work in Cheshire and Merseyside."
As part of the funding already secured via the Cheshire and Mersey Maternity Networks, we have been able to secure our first practice development midwife, Rachel, who has joined our midwifery team for six months to help scale and deliver this training.
It has also enabled us to successfully bid for HEE funding to purchase maternity training equipment, including a suite of preterm baby dummies with 'real-life,' accurate and functioning anatomy. This equipment will enable high-quality team training in rare emergencies that can occur during childbirth. It will also ensure that the simulated scenarios embedded within PROMPT training are realistic, engaging, and innovative. It is a positive development for emergency care for pregnant women.