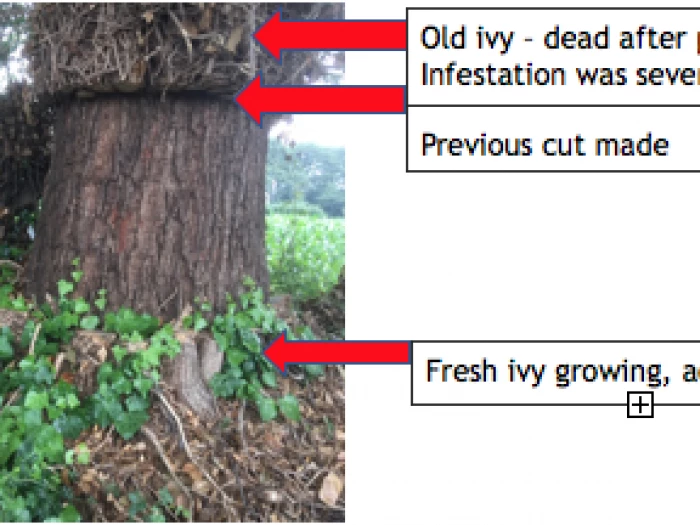 IVY – the enemy in our midst !
CLICK ON THE IMAGE TO SEEE THE FULL DETAIL
If you look around our area, there is ivy growing up the trunks of many of our trees, gradually strangling them, depriving them of light and nutrients and eventually in most cases killing them.
Worst case scenario the tree dies and then the weight of the ivy may pull the tree down – this has been seen many times locally and is a particular problem if windy where trees may fall to the road, potentially causing an accident. One reason deciduous trees shed leaves in the winter, is so the wind can blow through the branches without any damage – if covered in ivy the risk of being blown down is greater.

Control is not difficult to achieve although action must be taken regularly. Dependent on the severity of the problem, take either secateurs or a small saw and cut the root that is climbing up the tree, as close to the base of the tree as you can. Leave a gap and do the same thing again and remove the section of ivy in between. The ivy will then die over time. It is extremely rewarding to watch as the tree starts to breathe again!!

So, a plea, if you have free time on your hands right now, check out your trees and if action is needed – take it before it's too late! As a retired farmer's wife I know free time is a rare luxury, but a special plea must go to our farmers. Modern farming practices have made the problem much worse, as hedges are now cut with machinery and the ivy doesn't get touched – previously when hand cut the ivy was dealt with as the farmer went along. A lot of land is rented out these days and neither the owner nor the farmer renting the land takes responsibility for cutting the ivy back.

Large country estates no longer employ wood keepers as they once did so the ivy there is out of control. We are frequently told by environmentalists to plant more trees – how about taking care of the ones we have first !
So please – check out any trees in your garden, and land owners – please do the same before any more trees die, or you are sued by a passing motorist who's car is struck by a falling, ivy strangled tree.