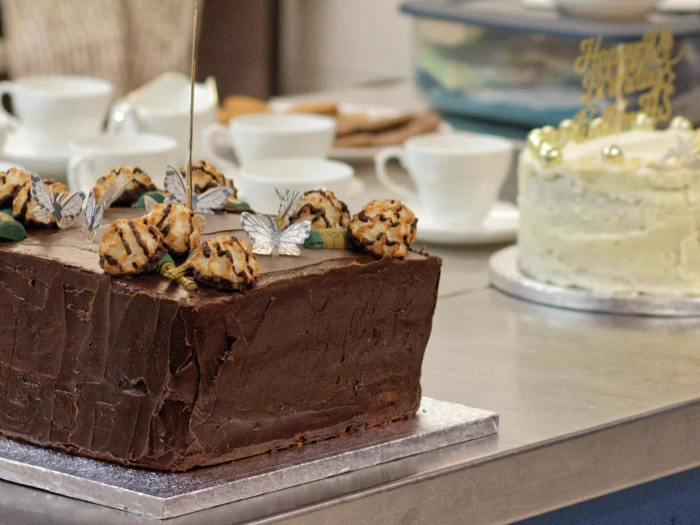 Audlem's History Society celebrates 40 years!
On Thursday a good crowd of members (and some past supporters who have moved away) gathered to mark 40 years of the Society. Celia Bloor recounted how a Keele University Adult Education class on Local History had run for several years and when that ceased, a public meeting was called in January 1980 to discuss forming a society to continue the work. Many well-known names from the past were founder members, including Jack Baker, George Dow, Geoff Farr, Frank Goodwin, Bill Hardy, Charles Marshall, Derek McElvey and Gordon Meredith. (See the newspaper account in the history archive on Audlem online).
She showed the publications concerning the history of Audlem which were available before then and those which had been produced since, starting with 'The History of the Mills of Audlem' – copies still available from the Canal Shop – and recently, several new ones by members. She thanked all those who had worked to keep the society going over the years.
Geraint Davies then recounted a chance meeting on Madeira in 1999 with John and Sheila Jones – John had been a year behind Geraint in the same student and teaching locations since 1948, but they had never met – which had led to Geraint and wife, Sue moving to Audlem and the conversation on an ARS ramble which had led to them joining the society some 13 years ago. Sue revealed an excellent knowledge of world history with her account of producing a little book for her granddaughters and how she had revisited her childhood haunts in Shrewsbury with them.
The speakers and helpers were thanked by Charles Cavill with special mention of Ann Jones who had made two beautiful cakes for us; Mary Haines who had procured the Prosecco and John Whitehead, official photographer of the evening. There was a display of albums of cuttings concerning the society's exhibitions and meetings and sheets of old photographs which had been displayed previously were revisited.
Then the refreshments were served and afterwards everyone agreed it had been a wonderful evening and wanted the display of material repeated as they had not had time to study everything while eating, drinking and chatting.