Lloyd George knew my father
By Geraint Davies
Most people of a certain age probably know the boy scout/campfire sing-along song with the repeated lines of 'Lloyd George knew my fa-a-a-a-ther / Father knew Lloyd George', sung to the tune of Onward Christian Soldiers. I believe that that hymn no longer appears in the modern hymn book of some denominations. No longer regarded as PC. (Politically Christian?)
Cultural fashions change over the years and what was popular in one generation has gone by the next. My father (Dewi Meirion) and his two older brothers were famous in Wales in their day as reciters of note. Recitation is the art of dramatically speaking aloud a poem, from memory, before an audience. A reciter in those days was celebrated and was as highly regarded as a solo singer. The latter of course has maintained its popularity.
As evidence of the above, we have a copy of a long article from the newspaper Y Cymro dated from the early 1900's celebrating that Dewi Meirion had beaten his two famous older brothers in a recitation competition at a major eisteddfod. Also, later when he had established himself as a teacher of recitation, my mother as an 18-year-old chose to travel weekly from Bethesda to Bangor for tuition in the art of recitation. (When she was 21, they were married!)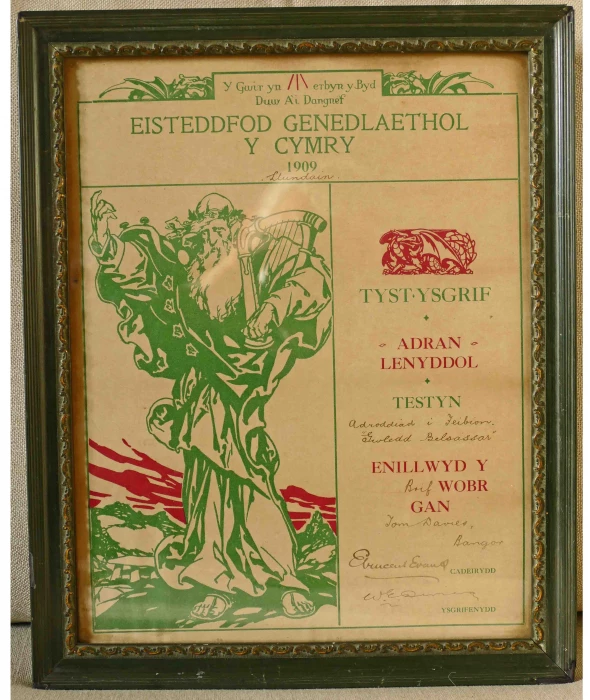 Tom Davies' (Dewi Meirion) 1 st prize certificate from the 1909 London National Eisteddfod

It was at week-long major eisteddfodau, such as Eisteddfod Mon or the National Eisteddfod, that reputations were won. In the London National Eisteddfod of 1909 held in the Royal Albert Hall, Dewi Meirion won the 1st prize in the Men's Recitation Competition. As he waited his turn, pacing up and down back-stage, revising his lines and gathering himself before being called, he was somewhat distracted by the noisy scuffles of policemen carrying out suffragettes who were disrupting proceedings in the hall.
When I lived in London (1954-63) I performed in the Royal Albert Hall on a couple of occasions in choral events, and also a few times helped back-stage with the London Welsh Saint David's Day celebrations. On those occasions I often thought of him, and felt for him, pacing those cavernous, curved corridors that encircle the auditorium, gathering himself for the performance he was about to give on the stage, alone in front of that vast audience. What a daunting experience!
In later years he remained in the public eye as a recitation adjudicator, a regular contributor to the Welsh press, and author. And here again is another striking example of how public tastes have altered. One booklet of his, entitled 'Briwsion y Pulpud', (Crumbs from the Pulpit), published for 1/- (5p), was a synopsis of some of the great sermons of a famous Welsh preacher Dr Thomas Charles o'r Bala (of Bala). Can you imagine such a subject catching the attention of the public today? It must have done so because the copy I have shows it to be a '2nd Edition' of the book. But further confirmation of the book's appeal is that my niece in Bangor has a letter from Lloyd George thanking Dewi Meirion for the sample copy he'd been sent – and ordering a further fifty copies to be despatched to No 10 Downing Street.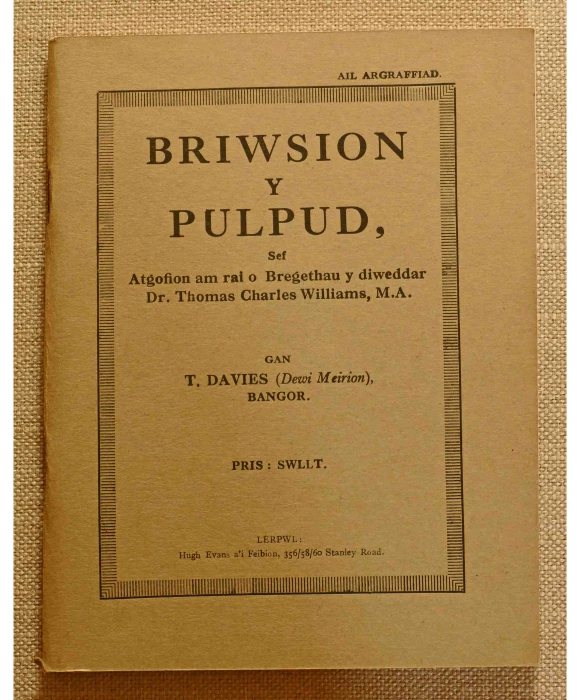 So, perhaps I'm the only one left who can truly say: "Lloyd George knew my father".