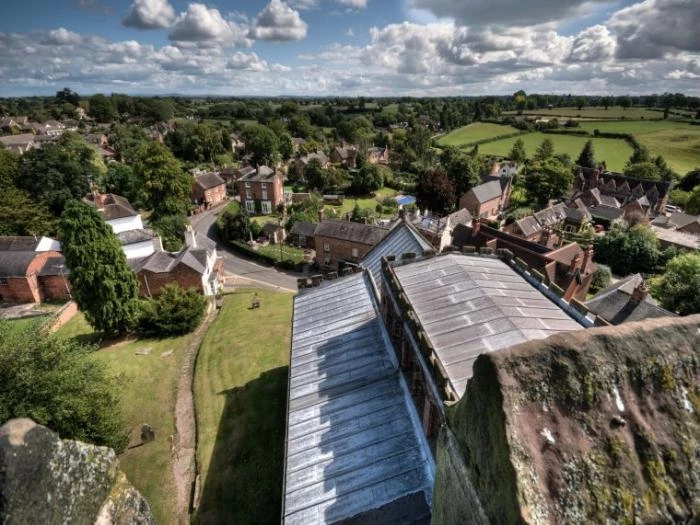 School has been full of Harvest songs, poems and prayers this week as the children and staff prepare
for our special service at St James' Church this coming Tuesday.
It has been wonderful to hear the energy and enthusiasm in each class as everyone has been sharing ideas about this special time of year. If you are able to help to walk the children down to church from school at 9.10am please let the school office know. I look forward to sharing this special occasion with you and your children.
Our Year 5 children visited Corbrook Court yesterday to share some of our special Harvest songs with residents there. The children were wonderful representatives of school, singing beautifully and chatting to the residents; Mrs Stoker was very proud of them all.
Diamond class started their week dressed as evacuees as they travelled by steam railway back in time at Churnet Valley. They all looked wonderful in their outfits and were full of exciting news and learning from their visit.
I have had the pleasure of visiting all classes this week as part of my regular Learning Walks in school and this week I was joined on my 'Safari' around school by representatives from each class who explained all of the things which help them learn and showed me some of the things they are already proud of this year.
I was delighted to hear about children's 'risk taking' in their learning as they have pushed themselves out of their comfort zones in their lessons and deepened their understanding of the concepts and ideas they are covering by 'diving for pearls' in their lessons. This continues to be one of our main focus areas in school as we support all of the children to 'master' skills and concepts through application and reasoning to gain a secure foundation for future learning.
Our School Parliament representatives have been voted for and I am pleased to announce the names of our new representatives for this school year. These children are:
Reception: Charlie Furber, Year 1: Esme Hetherington Doyle, Year 2: Heidi Woods, Year 3: Skye Howell, Year 4: David Cottrell, Year 5: Leo Whittaker, Year 6: Eloise Featherstone.
They will be joined at their meetings by our Head and Vice Head Boys and Girls, Oscar Javens, Sam Hassall, Amelie Varley and Holly Gregory. I am looking forward to giving you regular updates about their work!
Our newly elected School Parliament have chosen Nantwich Food bank as the charity to help as part of our Harvest work this year and I know the families who will benefit from the donations sent into school will be very grateful. Please send any donations into school by Friday 7th October so they can all be passed on.
Many of our Reception parents joined us for lunch on Wednesday. It was lovely to see how confident the children were showing their parents what we do at lunchtime and I know many parents commented on the lovely food they ate. Thank you to the Kitchen Team and the Mid Day Assistants for looking after everyone so well.
A new e-Safety Champion has been appointed to join the rest of the team in a busy first week in role! Benji Cole joined Lily Grange, Jem Sheppard and Charlie Chibnall and Mr Davies to attend an Internet Safety Roadshow organised by Cheshire Police at Crewe Alex FC yesterday. This is what they had to say about their experience:
'We learnt about eSafety, how to keep safe, whether it was better to be offline or online and the tech that can help schools. Overall it was a very beneficial experience!'
The children will promote e-Safety within school working with Mr Davies and PCSO Nick Jarvis to pass on important messages about keeping safe online. Research shows that children are more receptive to e-Safety messages when they are presented and promoted by their respected peers and I am sure our Champions will do a great job with this again this year.
Congratulations to Marleigh Matravers and Rebecca Dutton who were appointed Junior Road Safety Officers this week. They will work with PCSO Nick Jarvis to promote important road safety messages throughout this year. This week's Praise Book children are:
Mrs Maughan's Class – Isla Rowe
Mrs Hayward's Class – Hayden Byrne
Mrs Richardson's' and Mrs Burgess' Class – Malin Smallwood Mr Perry's Class – Oliver Tew Goodwin
Mr Davies' Class – Charlie Chibnall
Mrs Stoker's Class – Austin Wilson
Mrs Bird's Class – Mikey Consterdine Wiggins
Congratulations to you all!
Wednesday's Active Audlem before school was an energetic and fun way to start our day together! It was great to see children, parents, grandparents and staff participating and making an active start to the day. The weather was kind to us too!

News from FASA
FASA's first event of the school year, a Teddy Bear's Picnic, was a wonderful way to celebrate the start of the new school year yesterday. Thank you to all the volunteers who gave time, cake and energies to this special picnic and to all of the families who joined us for this special occasion.
Plans for FASA's Spooky Night are now in full swing; this popular event will be held at the Scout and Guide hall on Sunday 23rd October. The EYFS and Key Stage 1 disco will run from 4pm -5.15pm and the Key Stage 2 disco will run from 5.30pm-7pm. Parents are welcome to stay with their children for the EYFS/Key Stage 1 disco. Entry is £2 per child. Please call Deborah Varley on 07940914639 to book your place.
ABC Childcare
This week ABC's theme is Autumn and their book of the week is 'A Book for Bramble'. The children are also enjoying ABC's wiggle worm programme called " Toffee's night noises".
ABC have sent out a questionnaire for their holiday club in October; if you require holiday club cover please feel free to visit ABC to speak to a member of staff or get in touch on 01270 748081. The team are always happy to help.
Reception New Starters September 2017
A reminder that we will be holding an Open Morning in school on Tuesday 11th October for prospective parents from 9.15am – 11.30am – please spread the word.
The admissions window for applications for September 2017 is open and parents and carers can apply for a place at our school via Cheshire East Council's website at: http://www.cheshireeast.gov.uk/schools/admissions/admissions.aspx 'Come Lunch With Me' Themed
Bell Ringing
There are currently additional places available for children to attend bell ringing training sessions on Wednesdays at 7pm at Audlem St James' Church. Children need to be at least 10 years old due to the height required to ring the bells. Please contact Brian Bugeja on 07940 146928.
Zumba Gold Returns!
Zumba classes return to Audlem Village Hall on Tuesdays at 11.15am, 45 minute classes cost £5 per session and are suitable for men and women of any age. Please contact Mandy on 07511 229453 for further details.
Audlem & District Community Action
This group offer a wide range of activities and support for carers and elderly residents at the Lord Combermere, and Hankelow Chapel. They are always keen to hear from anyone who would like to find out about how they can access these services. Please contact Lynn Morear on 07595 919727 or Ronni Briggs on 07845 495973 to find out more.
Dog Fouling
I have contacted AudlemOnline and PCSO Nick Jarvis this week after receiving reports of dog fouling along the public footpath, which runs alongside our car park at the front of school. Unfortunately this is a public right of way and is therefore used regularly by dog walkers.
I would like to urge all users walking dogs along this footpath to clear any dog fouling and to be especially considerate when walking dogs near school grounds as the high number of children using these paths and walkways increases the chances of children falling or slipping on such hazards. Thank you.
Finally
It is important that our newsletter, and all other forms of communication we send out to parents and carers, give you a clear and detailed picture of our work in school, so that you are kept up to date with events in school and our community. If you have any ideas, comments or suggestions about the content of newsletters please get in touch with me.
R Jewitt
---
This article is from our news archive. As a result pictures or videos originally associated with it may have been removed and some of the content may no longer be accurate or relevant.