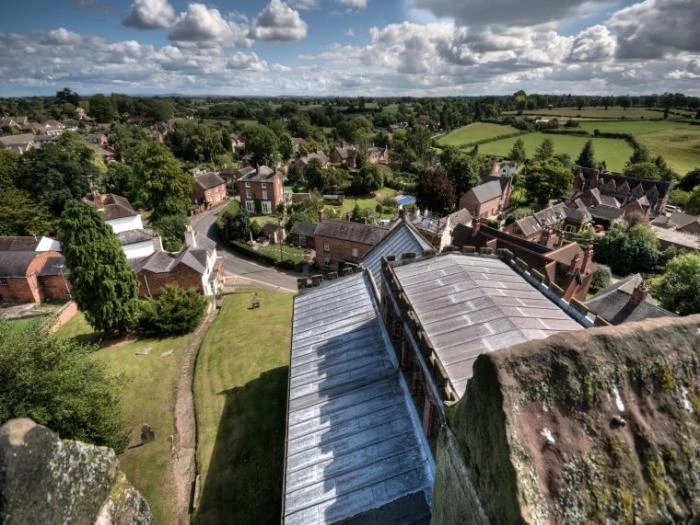 Over recent days, AudlemOnline has published articles that had caught our eye looking back on the Year 2012. Yesterday's was on a sporting theme and we continue that with a look back at one of our favourite articles published on this website.
Mike Mason and his wife Karen were lucky to be in the Olympic Stadium on the very last day of Athletics, a night everyone there – and those that followed the action on TV – will never forget.
This is what Mike wrote for AudlemOnline on 4th August:
The Mo-ment: We were there!
They tell me it was a defining moment in British sporting history. They say people will ask in years to come "where were you when Mo Farah won his gold" in the final of the men's 5,000 metres at the London 2012 Olympics.
Well, I'm humbled to know that I was there, in the Olympic Stadium, as the great Mo grabbed his golden moment of glory. It was an incredible moment that will stay with me for many years.
But what I mostly recall of Mo's great win was my poor eardrums. Few people can have heard 80,000 people yelling their socks off but I can vouch that the noise is scarcely believable.
And as Mo rounded the final bend I thought 'this simply cannot, it cannot get any louder'. As Mo crossed the line I was reduced, like many others, to sticking fingers in my ears. The noise was edging painful, noisier even than a Heavy Weather gig in the Shroppie.
Screamed
Our seats were a third up the higher tier on one of the bends. The family on the seats behind had screamed themselves hoarse throughout the race. In front, a large family of Jamaicans, dressed in national colours of green, black and gold, were jumping in the air.
As Mo celebrated his victory parade, the Jamaicans turned around and shook our hands vigorously. "Well done, well done," they yelled above the incredible din, as though we had played some actual part in Mo's triumph
It was no time at all before the tables were turned. We cheered the Jamaican relay team into destroying the world record and we were every bit as thrilled by the unbounded joy of the celebrating Jamaican family.
We pumped hands, shouting "well done" in return. The warmth, joy and sheer exuberance of the occasion was utterly infectious.
Abiding Memory
And that perhaps, will be the abiding memory of these great 2012 Olympic games. Apart from the great spectacle, the feats of athletic achievement, the tremendous excitement of the chase, it was the sheer communal pleasure of the crowd and the outpouring of joy and good will.
At a small restaurant after the games we were enthusing over the events of the night when an American professor overheard our conversation from the next table. He had attended all the athletics events over the previous seven nights.
He didn't say where he'd got tickets but he assured us he was now broke by the expense. A self-confessed athletics nut, he had been to the three previous Olympic Games and to every World Athletics Championships in between.
London 2012, he confessed, was the very best Olympic Games ever and this particular Saturday night had been the best night of athletics he had ever witnessed in his whole life. "Tonight," he added, "was simply transcendental". And this from an American whose team has just lost the men's relay.
Despite never before having experienced an Olympic Games except on TV it was impossible to disagree.
Lucky
We had been incredibly lucky with the Olympic ticket draw tickets. We'd applied in a spirit of forlorn hope and we were delighted at having struck so lucky with tickets for the last athletics day of the Games.
But we now knew just how lucky we had been. And it wasn't just Mo's moment of glory or the Jamaicans' astonishing achievement. Each javelin throw, each high jump attempt had prompted wild hand claps of encouragement followed by heartfelt cheers or groans from the spectators. Each victory parade, each medal ceremony had been a delight.
Mention too must be made of the efficient friendliness of the Olympic Park organisation. With thousands of visitors, airport strength security and plethora of venues on the single site, we had expected long queues and forecast fractured tempers. But we waited no longer than three minutes anywhere – there are longer queues in Tesco.
Stewards and police were everywhere too, and everywhere smiling, friendly, welcoming and helpful. Prices may have been approaching outrageous at £4.30 for a small plastic bottle of lager but I suppose we can expect that at big national events.
Pride
The 2012 Games has shown that Britain can pull it off when it has to and what pride we should all take not only in our national achievement but also in our national ethnic diversity and multi-cultural identity.
The incredible achievements of the British competitors, the best medal haul in more than a century with 65 medals, nearly half of them gold, shows just what can be achieved with determination, hard work, encouragement and support.
Back at the restaurant, the American professor, now in his sixties, was looking forward to the next World Championships and Olympics. "Let's just hope I survive long enough," he added.
And with some pride, he spoke of what he considered the main American achievement of the night when the US high jumper Brigetta Barrett jumped 2.03 metres to take a silver medal. "Do you know she's not long out of High School?" he asked.
It made me wonder if we couldn't have a would-be Olympic champion here in Audlem.
After all, the youngest competitor in the 2012 Olympic Games is just 13 years old and she is one of 33 competitors aged 15 and under.
Who knows what we could achieve?
---
This article is from our news archive. As a result pictures or videos originally associated with it may have been removed and some of the content may no longer be accurate or relevant.