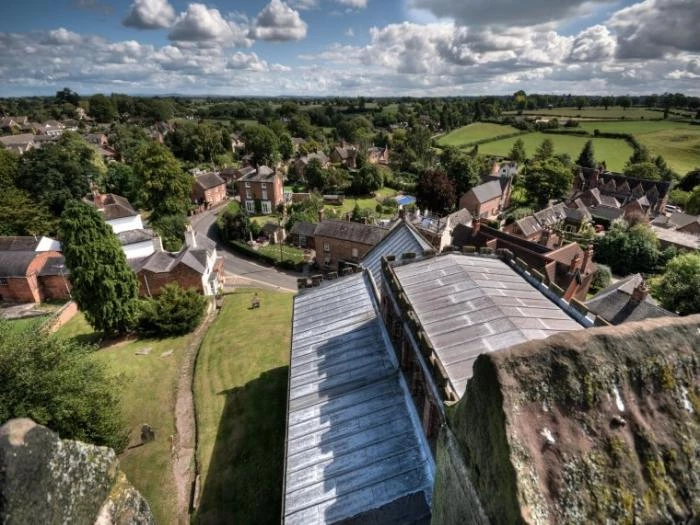 This year's Audlem Beer Festival is at the Lord Combermere and the focus for the event will be local. Most of the 32 beers on offer will be from local micro brewers based within 30 miles of Audlem.

There will also be some Cheshire Ciders included with the 18 craft ciders and perry. All of the entertainment will be supplied by local talented acts.

The 2012 Audlem Beer Festival is this weekend, Saturday August 25th, Sunday 26th and Bank Holiday Monday 27th.

But, to help build up a thirst, here's a preview of all the beers on offer:

Beartown Black Bear Ale: Award winning dark ruby coloured strong mild ale. Subtle roast and malt flavours fill the taste, completed by a mellow sweetness.

Beartown Pale Zesty Bear Ale: The second in the Congleton brewery's series of single hop variety beers is now available. The name says it all. They say: "As with the first of the series we have have used New Zealand hops, this time Motueka , resulting in a pronounced fruitiness in the aroma and a full, hoppy, citrus taste."

Blackwater Rat Race Ale: Straw coloured with a style described as: "A field of hops, breeze with hints of of orange, citrus and lime. Hints of biscuit and wheat give depth and balance and a powerful finish."

Frodsham Buzzin Ale: Bronze medal winner for Best Bitter 2007 Great British Beer Festival. Golden fruity bitter with a hint of honey. A single hop beer with good hop flavours and a dry finish. Named after the brewer's wife Hazel.

Greene King IPA Ale: John Bexon, Head Brewer ar Greene King says: "One of the reasons Greene King IPA is very popular is that it's easy drinking, slightly bitter and hoppy rather than sweet, which makes it moreish.

"It's a fantastic quaffing ale that tastes stronger than its alcohol by volume suggests, because of the great flavours you get from the range of roasted malts and hops that go into it."

Lymestone Stone Faced Ale: From nearby Stone, the brewery says: "Pale and Dark Crystal Maris Otter malts unite to embrace a motherland of chewy toffee while fruits and berry flavours rush in.

"Styrian Goldings from the East and Nugget Hops from the West are allied in perfect harmony as pine and citrus hop flavours caress the taste buds."

Lymestone Stone the Crows Ale: As the name suggests, also from Stone: "A rich red to black beer carefully crafted from the finest crystal and chocolate malts.

"Chewy juicy fruit flavours give way to a deep lingering bitterness provided by an abundance of Styrian Goldings, Millenium and Nugget hops.Merlin Excalibur Ale."

Merlin Kings Ale: A light coloured bitter brewed in Sandbach. More when we know a little more about this beer!

Mobberley Road Runner: Mobberley Fine Ales was established in July 2011. The brewery is housed in an old milking parlour on a working farm, set in the heart of the Cheshire countryside. Roadrunner is a new beer this year and is a light, refreshing pale ale.

Offbeat Way Out Wheat Ale: Brewed in Crewe, this is naturally cloudy and packed with flavour from sweet orange peel, coriander and a traditional wheat yeast. You'll taste bananas, sweet flavours and coriander.

Offbeat Ginger Beer & Chilli Ale: We don't know much about this one but, at a guess, we think it might have hints of ginger and chilli!

Salopian Kashmir Ale: An elegant strong Salopian version of an IPA, citrus, pines and tropical fruit engulf the palate and caress the senses. A dry body with an extremely long lingering finish.

Salopian Lemon Dream Ale: A wheat beer very much in the modern English style – served bright and top fermented. The recipe uses a small amount of fresh lemon to compliment the citrussy flavours produced by the wheat malt. Each of the Hops used, Goldings, Saaz and Cascade add fresh lemony flavours to the brew.

Salopian Hop Twister Ale: The palate is fresh, piercing and focused, with soft malt overtones and pronounced citrus flavours. A strong focus of taut, lemony, grapefruit on the finish which is balanced by a dry bitterness

Sharps DoomBar Ale: Not locally brewed but already a local favourite. Doom Bar Bitter is named after an infamous sandbank at the mouth of the Camel Estuary in North Cornwall near where it's brewed.

Doom Bar embodies many characteristics which make it worthy to carry the name of this natural wonder. It's distinctive aroma and balanced flavour set it apart from other beers taking unsuspecting first time drinkers by surprise with its moreish appeal.

Shugborough Butlers Revenge Ale: Brewed in Stafford, the colour and delightful hoppy character suggest easy drinking and the smooth finish will leave your palette refreshed.

Shugborough MiLady's Fancy Ale: This one should be particularly popular this summer! The brewer says: "A Golden beer to remind you of sunshine."

Tatton Brewery - there will be two ales from the brewery's range of four regulars complemented by seasonals and occasionals brewed to add a little fun to the Knutsford-based company's range.

Titanic Pier 54: The intended berth for the Titanic when it arrived in New York, Pier 54 still stands today. This beer reflects the very best of US craft brewing, red in colour and with an inviting malty foretaste, the American hops come crashing through to wow those who love hops. Brewed in the Potteries.

Titanic Plum Porter: This beer is dark, strong and well rounded; the richness of such a rotund beer is brought to an even keel by the late addition of Goldings hops and natural plum flavouring. Take the opportunity and go for the low hanging fruit, this sumptuous beer really is a plum!

Timothy Taylor Landlord Ale: a well-established local favourite. Brewed in Keighly, Yorkshire, this Classic Strong Pale Ale has won more awards nationally than any other beer: This includes four times as Champion at the Brewers' International Exhibition and four times as CAMRA's beer of the year.

Weetwood Mad Hatter Ale: A red – brown beer with fruity and malty flavours throughout. Brewed with US Amarillo hops to give spicy and floral notes.

Weetwood Ambush Ale: An amber beer with a smooth, fruity foretaste finishing with the distinctive aroma and flavour of Styrian Goldings. Warning: Take care, it creeps up on you. Winner of Nantwich Beer Festival 2004.

Wincle Old Hag Ale: Brewed by a man with very local connections, Giles Meadows. He was brought up just over the road from the Lord Combermere and many of his family live in Audlem. This 18th Century style beer uses lashings of chocolate malt and subtle fuggles hopping to make a dark, sumptuous and comforting ale.

Wincle Wibbly Wallaby Ale: A full bodied golden beer with fruity 'hoppy' overtones and a dry, slightly biscuity finish. Very moorish. The Roaches, near to the Wincle Brewery, are (possibly were) famous for wallabies.

Wincle Nimrod Ale: Nimrod is named after Shackleton's Antarctic expedition vessel. Why? Well, local Wincle man Sir Philip Brocklehurst Bart. of Swythamley Hall was assistant geologist and in charge of current observations on Shackleton's Antarctic expedition. This copper-coloured 3.7%ABV beer is a tribute to those pioneering men with a thirst for adventure!

Woodlands Red Squirrel Ale: An exceptional dark red session beer with a hint of blackcurrant. Added to the Woodlands range a few months ago, Red Squirrel has quickly become their best seller and will be available all year round.

Woodlands Oak Beauty Ale: A mid-colour bitter with just a hint of acorn brewed nearby at Meadow Lane Farm near Nantwich.

Woods Wild Shropshire Ale: From the popular Shropshire brewery, a new brew 'launched' at Nipstone Rock near the Stiperstones to commemorate 50 years of the Shropshire Wildlife Trust.

Woods Quaff: The most recent arrival of all the Wood's year-round beers. Brewed for those who enjoy a great pint that is not too strong (it's 3.7%ABV). A pale and refreshing light bitter with a clean, hoppy finish.

Tomorrow, we revisit the cider and perry and choice.
---
This article is from our news archive. As a result pictures or videos originally associated with it may have been removed and some of the content may no longer be accurate or relevant.