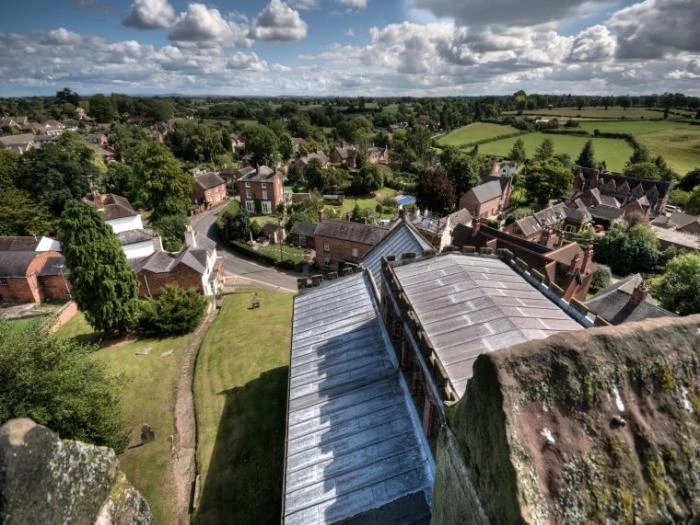 Bob Cartwright
It is with great sadness that we announce the passing of Bob Cartwright, one of the leading personalities of the village, early yesterday morning.
This obituary has been prepared by AudlemOnline editors, Alvar Jones and John Tilling with no little help from the man himself.
In recent years, Bob wrote his autobiography, "A Lucky Life". The full text of this can be seen by using the link below the photo.
Early life
Bob was born on the 14th of December 1945 in Southampton but he would have been too premature to claim he was a VE celebration baby,but moved to Bebington near Birkenhead (his father's home town) where he spent his early formative years. He was academically (but in his own words not practically) gifted but with his competitive drive, a characteristic which stayed with him all his life, he succeeded in achieving a place at the highly respected Birkenhead Direct Grant School where he obtained excellent A Level grades in History, Geography and Economics before going to Southampton University.
He claimed the hard work regime at Birkenhead and pressure to succeed was to stand him in good stead for later life in the business world. The strong sporting emphasis at the school also gave him a life long love of cricket at which he claimed to be an accomplished bowler.
He read Modern History, Politics, and Economics at Southampton obtaining a good degree which Bob maintained could have been a first with a little more work on the Politics.
It was during this period Bob was selected as an extra on the film "A Man for all Seasons" in which he was an Elizabethan courtier. However, Tudor courtiers' outfits are a bit short on pockets and the only place for Bob to secrete his cigarettes was behind his codpiece thus enhancing his reputation with his fellow thespians. Unfortunately for Bob during an Action Take, the cigarettes fell out from behind his codpiece in front of the camera and fellow actors!
It was also at University he founded a lifelong interest in cuisines of the world initially from dining in a small local restaurant called the Taj Mahal.
Life in Business
Bob had a very successful and varied business career. Key amongst his successes were the times spent at The Liverpool Echo, Rolls Royce motors , British Nuclear Fuels and Bass Brewers.
The Liverpool Echo
At the Liverpool Echo and Daily Post, Bob was recruited into the marketing group to look after the promotion of advertising but was quickly given a managers post at the age of 27 improving circulation when his boss was offered a job in London. Liverpool then was down on its luck economically but had comedians, footballers, musicians and poets galore and it seemed everyone had a natural wit. Bob recounts many hilarious events in his memoirs as he devised competitions for readers like Place the Ball, Ring a cross and The Echo Wishing Well.
The last of which provided for an eighty year old to go on honeymoon from Liverpool to Llandudno and to stay in a hotel on the promenade. Next day the wife rang up to say thank you to Bob but went on to to say that that "Fred did not wake up this morning, But don't worry Mr Cartwright. he died after the best night of his life!"
Rolls Royce
At the age of 35years, Bob was offered the job in Rolls Royce Motors as Director of Public Relations and Advertising – a daunting task for a 35 year old but one Bob readily accepted. Little did he know that less than a year later he would be running the launch of a new car that would change the company fortunes forever.
Bob was soon to be given the job of a "low key" launch of the New Bentley Turbo – a modification of the standard Bentley Mulsanne. At that time Bentley sales were only 7% of overall Rolls Royce sales. The launch was to be three pronged – London, Geneva Motor Show and Journalists being invited to Le Mans to race the cars over 250 mile trial circuit whilst being hosted in a Local Chateau.
Bob's expense submissions were legendary
The launch and car was so successful that Bentley eventually became the mainstream product from what was then Rolls Royce Motors, although not before Rolls Royce went through major financial difficulties in the 1980's
British Nuclear Fuels
Bob's next venture was in 1984 when he joined British Nuclear Fuels to run their promotion and advertising campaigns – a not inconsiderable task given the low regard the company was held in at that time. Because of his experience he was also asked to be chairman of the Nuclear Industries Exhibition Committee which created successful exhibitions for home and abroad such as Geneva, Rotterdam and Washington DC promoting British Nuclear 's industry capabilities.So successful were these exhibitions and advertising campaigns that a lot of visitors were attracted to Sellafield.
As a result Bob was asked to design and build a large new Visitor centre within a year for the next Duke of Edinburgh's visit. It involved a major operation to bring together the building designs and build, design of exhibitions and audio visual displays, a new cafe and gift shop. A major logistics operation, and one which was completed on time (just) and of which Bob was immensely proud.
The associated advertising campaign involved a trip in the Flying scotsman along the coast of Cumbria and a quarter of a mile of Cumberland sausage to serve to 2000 people.When asked by the supplier why a quarter of a mile was required Bob replied" it's for almost 2000 people and having done the maths, I think 9 inches is enough for any man".
Bass
In 1990 Bob was headhunted to Bass and offered the job of running communications and public relations for the pubs side of the business Bass Inns and Taverns during a time of great change as a result of the Beer orders that were issued by the Government limiting the number of Pubs owned by Breweries to 2000.
This required Bass to dispose of 2450 Pubs by July 1992 and as can be imagined, this was a major communications exercise both internally to the 50,000 employees and to the outside world. Life at Bass was much more than closing pubs though, because Bob was instrumental in setting up an all party Parliamentary Industry lobby group when he was asked to take on political affairs. Bass considered bidding for the National Lottery and Bob ran the Bass fund supporting good causes such as the Wildlife Trust, and the organisation of the large Company Conference of some 1500 managers and staff.
Following a major reorganisation to separate the hotels side of the business from the Pub division Bob was to prepare an IPO (Initial Public Offering) for what was to be called Mitchells and Butlers.
Meanwhile .....
In 1988 life changed dramatically, when Bob met Helen (a "blonde vision") in the Lamb pub in Audlem and the rest is history as they say. Both had children by previous marriages but soon they seemed to get on well. For time Helen and Bob lived in their own houses but met during the week, at weekends and also holidayed as a four child family. In 2001 Helen joined Bob at Ivy House as Spencer and Claudine went on to pastures new. This was a time when some fantastic holidays were enjoyed with family and friends.
A favourite tactic when sitting down to dine at a little restaurant in some remote corner of Europe would be to summon the waiter and ask for "a bottle Prosecco while we look at the menu and a bottle of red and a bottle of white to go on with, and we'll see how we go .....
Bob decided to retire on 24th October 2003 to allow more time for living, and Helen also retired from her job in school on the same day, which both celebrated subsequently as Freedom Day!
Bob had previously chaired the Tennis Club committee when major renovations were made to the tennis courts and changing rooms in 1982 and then in 1995 he chaired the team that put on the Audlem 700 Celebration of Audlem's 1295 (which eventually led to the Transport Festival thanks to Mike Hill).
So it was perhaps no great surprise in 2004 that the then Parish Council Chairman, Mike Hill, asked if Bob would chair the group of seven to create a Parish Plan, which was published in 2005, one of the first such Plans to appear. Bob was determined that this plan was not to become a talking shop but would lead to committed projects to serve the village.
One early suggestion from the Parish Plans that came up was the desire for a community website. Since Bob had some experience of websites he joined with John Gunstone and the parish plan communications team to create AudlemOnline. Since then, most people would say thanks to Bob the website has been a great success. Whilst most villages attract fewer than 1000 visitors per month, AudlemOnline gets around 60,000 a month – that's 1500 to 2000 a day – not bad for a village with about 900 homes. By 2017 over 20,000 news articles had been published, never a day going past without something new on the website.
Over the next ten years the Parish Plan team (subsequently the Community Projects Team) were to deliver some 27 projects for the Village benefit including 600 metres of towpath refurbishment; computerised screens in Audlem Mill and Overwater marina; a film about the canal by John Owen and Pete Marshall which achieved two international awards; funding for Audlem Lass with Rodney Cottrell which has since raised some £20,000 for the RNLI; Village public toilets refurbished and taken over locally at a time most were being closed in other Boroughs. This all culminated in the year following the 2010 Parish Plan in one of the biggest achievements – the Annexe to the 100 year old Public Hall – providing community rooms for Youth club, Elderly groups, Gymnasium, Football changing rooms, small hall and medical room.
Bob put a tremendous effort into helping and shaping our local community and reflected on what skills helped him in this:
a willingness to take risks
ability to make decisions
ability to think big looking at issues in the round
ability to bullshit (whilst being tall and wearing a good suit)
Those who worked with him on the many projects would include an ability to get other people to do the nitty-gritty bits, while plying them with good wine in the process
Bob finishes his memoirs as he begins – with his family:
"In 2013 twenty five years after our first date, Helen and I were married and they have been the happiest 28 years of my life since we first dated."
Bob's family by a previous marriage are Spencer and Claudie and Helen's children by her previous marriage are Mark and Jo.
The first grandchildren arrived in 2000 and 2001, Spencer's sons Lyndon and Liam born in Denver Colorado, the American branch of the family. Six more all British born followed from 2006 to 2013, Maddie, Max, Jake, ( Jo and Dave's Children), Harry, Jessie ( Karen and Mark's) and Lyra ( Claudie and Mark 2) We have to add the 2 to distinguish the Marks! – all a delight to both Bob and Helen
Bob was a remarkable man who lived and enjoyed life to the full and along the way gave so much to his family, forged a successful career, and played a large part in our local community life.
---
This article is from our news archive. As a result pictures or videos originally associated with it may have been removed and some of the content may no longer be accurate or relevant.