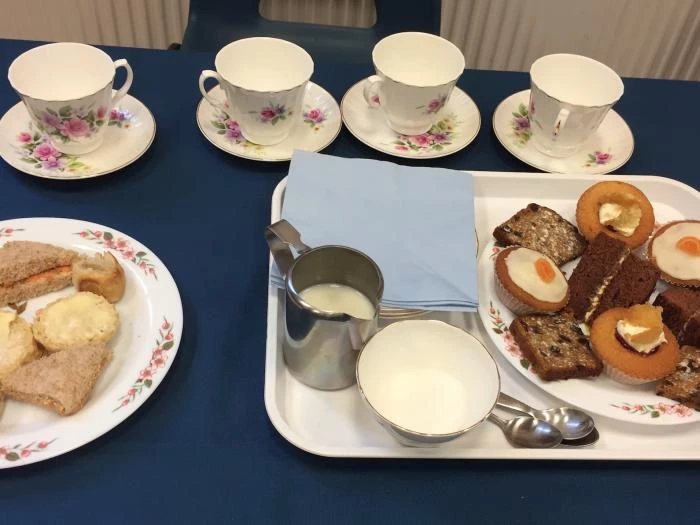 A New Day..... A New Beginning..... A New Venue.
The regular monthly meetings of the Audlem Womens Institute resumed at their new venueIn the Public Hall, Audlem on the 2nd September following the previously enforced Covid lockdown.
In order to celebrate the occasion each of us raised a glass of bubbly and gave thanks to all the good people of the village and beyond who went that extra mile to help keep us all safe and well.
The entertainment for the evening was entitled: Nostalgia with Live Music – from the 50's and 60's- provided by our invited guest speakers.
They began their first session with a rendition of old George Formby classics and went on to remind
us of other popular artists and musicians of this time. Many of the ladies were familiar with the words and music and happily joined in ----'without the compulsion to dance around their handbags'.
Five ladies – new to Audlem W.I. – joined us for the evening and were made most welcome by the
Members. At the end of the meeting each of them said how much they had enjoyed the occasion.
We would like to think that we will see them all again together with other potential new members atthe next meeting in October.
I along with the committee and members would like to give our grateful thanks to those good people at the Public Hall who helped to make the first meeting at our new venue a smooth transition and acomfortable experience. The facilities provided were excellent. The adjacent parking was a very welcome added bonus.
Green Week – Counting down to COP 26
In support of this cause, together with other WI groups across England and Wales, who are helping to tackle climate change and protect green spaces and how this impacts on women and girls at home and overseas, Audlem WI are adding their support to the (Audlem Carbon Emissions Reduction)Group – ACER and together with ADAPT attended the Audlem Climate and Nature event held at theButtermarket on the 18th September.
The intention is to offer our continued support to this cause inThe future.
Hundred Heroines UK
The WI has formed a new and exciting partnership with the charity, Hundred Heroines UK, which is dedicated to the advancement of women photographers. ....... Watch this space !!
In conclusion, may I say that friendship is one of the main reasons why people join the WI and surely it is friendship we all need as we hopefully begin to recover from the effects of the Pandemic.
Why not join us at our next meeting on Thursday 7th October at 2pm for 2.30pm at the Public Hall when our guest speaker's subject will be 'Food Glorious Food'.
You will be assured of a very warm welcome.
Elizabeth Green (President)