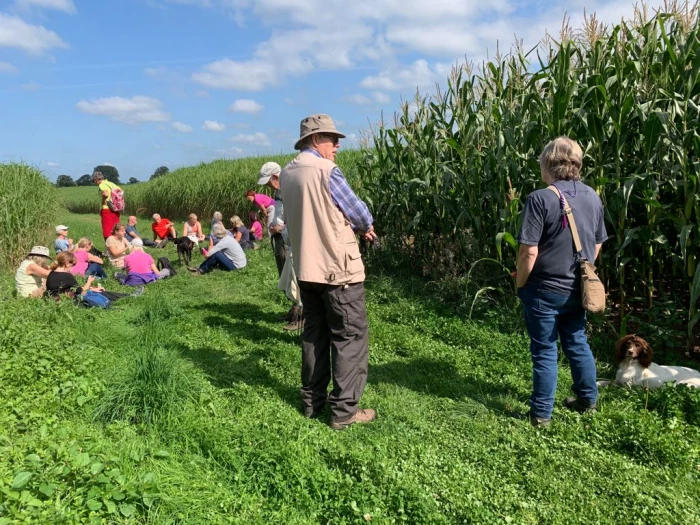 Audlem Ramblers (ARS) Walk Saturday 24th September
Pam Cooper and Glenn Close are leading the Short ARS walk on Lee Hill and Weston woods, meet Audlem Car Park at 9 am.

Their description :-This is a very pleasant figure of eight walk that incorporates Lee Hill and Weston Woods and although it is just under 5 miles, we will have some lovely views on the way and follow some beautiful forest paths.
There are a couple of steep ascents but nothing too difficult nor too prolonged for us seasoned walkers.
There are no styles and no fields of sheep to walk through, so dog friendly and it's not muddy at present.
We do however have to cross the A49 twice so although the road isn't terribly busy we do need to cross with extreme care as the traffic moves quickly.

We will meet at Audlem car park & be ready to leave at 9 am for the 30 min drive to Lee Brockhurst. Use postcode SY4 5QG.

As you turn off the A49 (signed for Lee Brockhurst & Aston) you will go over a small bridge and turn directly right into a parking area, adjacent to an old red telephone box. The parking is free and there should be plenty of room for us all to park. No public toilets I'm afraid (plenty of trees and bushes though for our convenience!) No cafe either, but if we bring a hot drink with us, Glenn and I will provide a little something tasty for us all to have with it at the end of the walk. Are we tempting you!!!

NB All walkers must have suitable footwear and be prepared for adverse weather, carry food and water to last for the entire walk and be suitably fit for the various lengths of walk.

Each walk is led by a nominated leader who will carry some first-aid equipment. The leader has the right to refuse to include in a group anyone who is felt not be adequately equipped.

Non-members of Audlem Rambling Society (ARS) are welcome to come on a walk but are expected to join ARS and pay the membership fee after a trial walk or two.