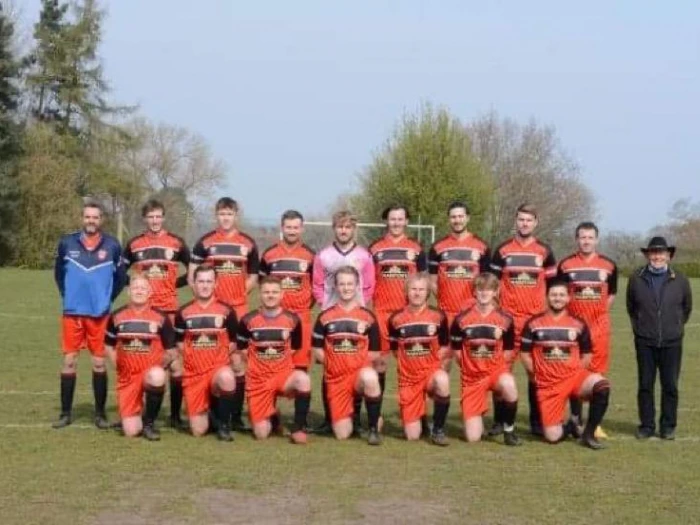 Match Report 31/10/21
Driving back one evening recently and overhead the first traces of contrails in a clear sky. Such have been missing for many months now. And then a skein of geese flies over. In their perfect "V" formation.
Did you know that the lead goose is swapped as they fly , so as to give the lead goose a rest . Quite magical that . And how I feel for those living in big towns and cities and who never see such marvellous examples of life all around us.
A damp miserable morning with a wind that promises as dreek day. Friday night our team of Rachel and Kev put on a race night at the Willaston Club. A superbly organised event by Rachel and the result ? We made around £900 clear for our empty bank balance. Each time we play at home costs us £62 for changing rooms and referee. On top of that we pay £500 to CE Council for the use of the pitch.
Now. Down to Earth . To the task ahead of us as we gear up to play a match versus Sandbach -- an away fixture and a true test as to just how good we are.
I drive off from home at 0900, in rain and through flooded roads . Arrive at Sandbach pitch. Call from Kev Rodgers to tell me manager has said pitch Ia not playable – Water . So I drive back , only to reach Aldi in Crewe and a call from Kev. Game is back on. An expletive and I turn back.
Wait and wait for someone from the opponents to arrive. Referee Rick Bradfield arrives and inspects the surface. Tests the bounce of a ball. Then long discussion with Sandbach manager. Not a nice person . Trying to persuade ref to call it off.
Eventually all our men arrive . Sandbach team drift in. No welcome whatsoever from them . Poorest such of all the league. Even do not have the changing rooms open so we have to put our strip on in the tiny car park .
But----
Once more , a very fine turn out of our players -- and Kev Mort again faces the quandary as to who send out from the whistle.
Referee gets all down to the pitch. Still their manager delays matters .
Kick off
1026
30 seconds in . A ball from James Craig , met by Paul Bowker who fires in a super shot , hurting the opponents resolve. Our fastest goal ever
1-0
In brilliant sun , as it so happens -- as game gets underway .
Pitch is sodden and ball does not travel well. Kit is going to be a challenge for Rachel, our secretary as she has the task of laundering. Lots of pre soaking.
1035
1st free kick to us. No gain.
Each side more or less equal.
We send in shot on goal but saved . Offside decision as SBFC try our defence.
Cold wind blowing as I sit here reporting .
Their number 19 gets a telling off by the referee for a hard tackle on Kev Rodgers, our so strong left back .
Sandbach come closest to scoring so far.
Andrew "Beco" Betteley wins a tackle -- number 19 again. He could cause us trouble .
1045
1st corner goes to us . No gain.
Dark clouds building now and a cold breeze .
Connor Baxter in goal playing his usual confident self. A real servant of the team .
Free kick to STFC . No gain.
1100
I give up and leave the cold outdoors and set my self up in my car , overlooking the field of play . Much better out of that cold wind. With the clocks going back it is well said that it is the end of British Summer Time.
Opponents playing more in our half now .Pitch really cutting up.
1102.
Their number 19 races up field . They score
1-1
1105
Free kick to us. No gain
1110.
Half time called.
More clouds racing overhead .
Restart and away we go.
Corner to us as we press hard on their goal. No gain. Their goalie playing well.
So far, our top scorer, Nick Gregory has enjoyed the game -- even though he is shadowed very closely to deny him the chance .
Loose dog running on the pitch is swiftly corralled.
1128
Player down -- of Sandbach. Badly hurt right foot . He hobbles of and is subbed.
1133
Corner to us. No gain.
Language so far has been quite clean .
Our defence line really playing well indeed.
1135
Shot by STBC goes wide as they begin to play better.
Paul Bowker's ball just goes wide.
1145
. Then . A sweet fast ball passed by Seb Burrows, is met by on running Nick Gregory who fires the ball home .
2-1
Shadows growing longer now as winter comes on
1205
STFC play subs.
Beco comes off and replaced by Rob Martin.
1210.
Game over .
Truly miffed by the lack of good sportsmanship and comrade ship by their ungracious manager . As we again strip off upon pavements !!
But.
Top of the league !! Kev Mort glowing with pride .
Man of the Match. Nick Gregory
Off to the Leopard in Nantwich. Grub -- tuna pasta bake- served on the house .
Next fixture on the 7th is versus Winsford Over FC , in Winsford of course.
Ralph Warburton
Audlem F C