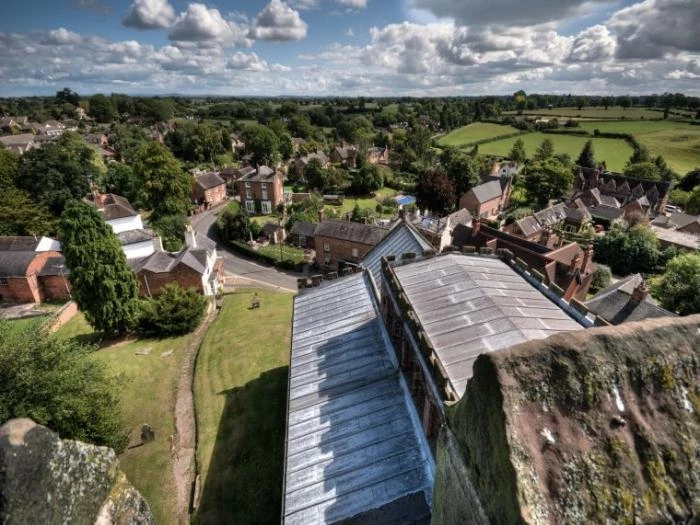 Members of the the Audlem Art Group, led by Christine Johnson and Jeanette Shenton, visited London on Friday to see the American artist Georgia O'Keeffe's exhibition at Tate Modern.
It was a packed day as, after an early train to Euston, the group went first to the National Gallery at Trafalgar Square.
Christine had selected over twenty paintings the group should study particularly. These included works by the English painters Constable, Stubbs and Turner – including his Fighting Temeraire, the second photo seen to the right – the French Impressionists Manet, Monet, Seurat and Cezanne and not forgetting the international selection of Van Gogh, Velasquez, Uccello and Van Eyck.
As well as providing a focus to the visit, it prevented the exhaustion that can soon overtake anyone confronted with thousands of great works of art.
For a light lunch, the group popped over the road and crept into the crypt of St Martin's in the Fields before soon taking an enjoyable boat trip from Westminster Pier to Tate Modern. The various bus and boat trips also presented an opportunity for those not armed with a bus pass to learn how to use their contactless debit cards on public transport.
Judging by the crowds everywhere, London is enjoying a tourist boom of epic proportions with Tate Modern teeming with visitors from all over the world.
Georgia O'Keeffe is best known for her paintings of magnified flowers, animal skulls, and New Mexico desert landscapes.
The exhibition brought together some of her most important works, including Jimson Weed/White Flower No. 1 1932, the most expensive painting by a female artist ever sold at auction – $45million – and seen here as the third photo. You can, by the way, click on any of the photos to enhance them.
Making her debut a century ago, in 1916, O'Keeffe was immediately recognised as a trailblazing artist and a pioneer of twentieth-century art. With no works by O'Keeffe in UK public collections, the huge exhibition of works loaned by museums and collectors was a rare chance to see the beauty and skill of her remarkable paintings outside the US. It was of particular interest as work by the group a year ago was based on Georgia O'Keeffe's distinctive style.
A guided tour of the packed exhibition had been arranged, which was both informative via headphones, and so necessary given the large numbers of visitors at what was the penultimate day before the four-month show ended yesterday.
Born on November 15, 1887, the second of seven children, Georgia Totto O'Keeffe grew up on a farm near Sun Prairie, Wisconsin. After art studies in Chicago and New York she experimented for two years, while she taught art in South Carolina and west Texas. Seeking to find a personal visual language through which she could express her feelings and ideas, she began a series of abstract charcoal drawings in 1915 that represented a radical break with tradition and made O'Keeffe one of the very first American artists to practice pure abstraction although she also produced many fine cityscapes including the view from Manhatten seen to the right.
O'Keeffe had launched her career after she mailed some highly abstract drawings to a friend in New York City, who showed them to Alfred Stieglitz. He was an
influential art dealer and internationally known photographer, who had introduced the likes of Picasso, Braque and Matisse to American buyers. He was the first to exhibit her work in 1916 and would eventually become O'Keeffe's husband.
By the mid-1920s, O'Keeffe was recognized as one of America's most important and successful artists, known for her paintings of New York skyscrapers--an essentially American image of modernity--as well as flowers.
In the summer of 1929, O'Keeffe made the first of many trips to northern New Mexico. The stark landscape, distinct indigenous art, and unique regional style of adobe architecture inspired a new direction in O'Keeffe's artwork. Her simplified and refined representations of this region express a deep personal response to the high desert terrain.
Suffering from macular degeneration and discouraged by her failing eyesight, O'Keeffe painted her last unassisted oil painting in 1972. But despite her diminished eyesight, in 1977, at the age of ninety, she observed, "I can see what I want to paint. The thing that makes you want to create is still there."
Georgia O'Keeffe died in Santa Fe, New Mexico on March 6th, 1986, at the age of 98.
After dinner on the Embankment near to Tate Modern, the Audlem Group enjoyed a night walk across the Millennium Bridge enabling all to see London at possibly its finest. It was the end of a splendidly organised visit to London completed with an 11.30pm return to Audlem after an immensely rewarding day.
The group of ladies in the top photo very kindly allowed an AudlemOnline reporter to accompany them to London.
---
This article is from our news archive. As a result pictures or videos originally associated with it may have been removed and some of the content may no longer be accurate or relevant.