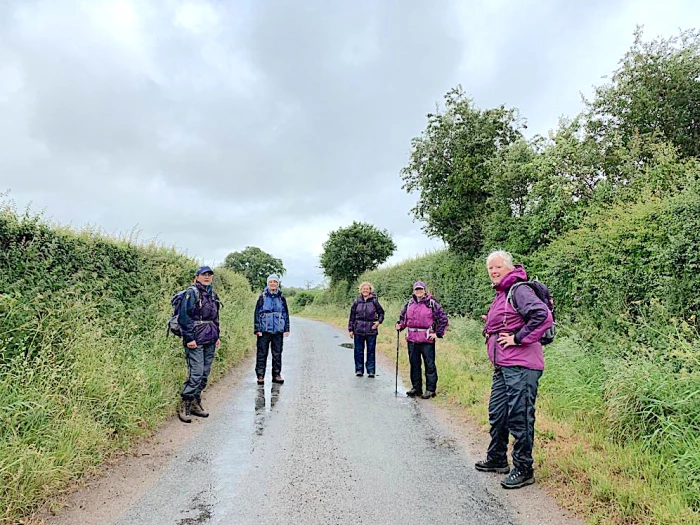 ARS Walks are Officially Sanctioned!

On Saturday, 14 members of ARS went for a delightful walk around the local Cheshire countryside, taking in Audlem, Corbrook, Hankelow, over to the Marina and the canal. The humans and the dogs seemed to thoroughly enjoy it!
There was however, a small incident as we initially walked past the public hall, that prompted us to reassure any Audlem residents (or anyone else for that matter) who witnessed the incident, or who may have concerns about the validity of these walks. Rest assured, such groups are not contravening any government advice or stipulations about during the Covid situation.
A car stopped outside the butchers and the driver told us all off for "breaking the law". He also told us that he was prepared to "report us to the police" because "more than six people shouldn't be walking together". We advised him that whilst we were quite happy for the police to be contacted, to save his embarrassment he might want to first read the government's actual guidance and also the Ramblers Association website.
Gov website:
* "There are exceptions where people can continue to gather indoors, or in groups larger than 6 outdoors, including for organised outdoor sport and physical activity.
Ramblers Association:
* "Ramblers in-person group activities can restart in England on Wednesday 2 December, in line with UK government guidelines. Ramblers group walks: Organised group walks can take place outdoors in any number provided Covid-secure guidance is followed and tier restrictions are adhered to."
So, as an official Ramblers affiliated walking group, ARS are able to organise their popular walks provided Covid-secure guidance is followed and tier restrictions are adhered to. Should anybody wish to join us, rest assured, we have strict guidelines to ensure that we follow the appropriate Civid-secure guidance.
Steve Elliott.