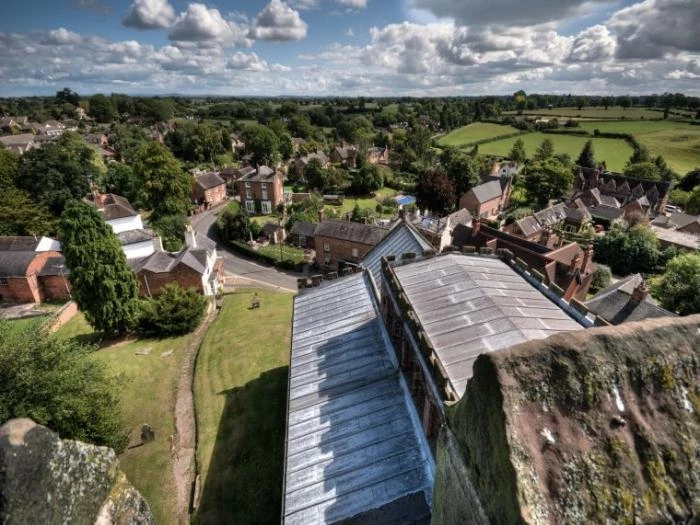 All Life is Change – 50 Years of Reminiscences and Reflections
Howard W. Hilton
One day in the last week of August 1969, just 50 years ago, a black Morris Minor 1000 with a dodgy clutch laboured up Green Lane and crossed the road onto what was then Yew Tree Estate. It contained me and my wife Hilda, son Christopher (rising 7), twin daughters Alison and Kristin (5), and a goldfish bowl with two Goldfish, named Nelson and Hardy. It looked like a battlefield on the Somme, since our house was one of the first to be built (although a few properties on Tollgate Drive were completed). On the basis of a new job, Lecturer at Madeley Teacher Training College, we had sold our semi and scraped enough together to extend our 8% Annuity mortgage to buy one of these "Detached, Four bedroom, Executive Houses" for £5,250 (now £300,000?) And that reminds one that money is just froth-bubble – wealth is something different.
This was the first of Audlem's expansion estates; no Moorsfield, no Windmill, no Broadway, etc.,etc. It must have been awful for the people who had been born here, who had seen, from the centre of the village, the cows browsing on the other side of the canal. Now it was a building site. What had we brought the children to? Why, an adventure playground of course!
Moseley's Yard
At the back of our house, on the bank of the canal cutting were three hawthorn trees, separated from us by a waist-high chain link fence, and the rest of the bank was totally bare. To the right was the Bridge Inn, and behind it Moseley's builders yard and garage premises, with its piles of materials, and workshops on the far side for carpenters, plumbers, electricians and the like. Next along the road was Kingbur Mill, with a tar-black corrugated iron loading gantry stretching over the canal to drop sacks of calf nuts and the like into barges. Then were some disused warehouse buildings (someone living at one end) and, beside the canal, a brick platform with a shed on it; the "crane" now there was still down at the railway station at the bottom of the Whitchurch Road, idle like the buildings since the Beeching "efficiency" closure of the line. That night it grew very dark, as there were few street lights in the village and the flood-lighting of the church was long in the future. At 11.30, even the few lights there were switched off!
Howard continues with his reminiscences which you can see by clicking the PDF file under the photo
---
This article is from our news archive. As a result pictures or videos originally associated with it may have been removed and some of the content may no longer be accurate or relevant.