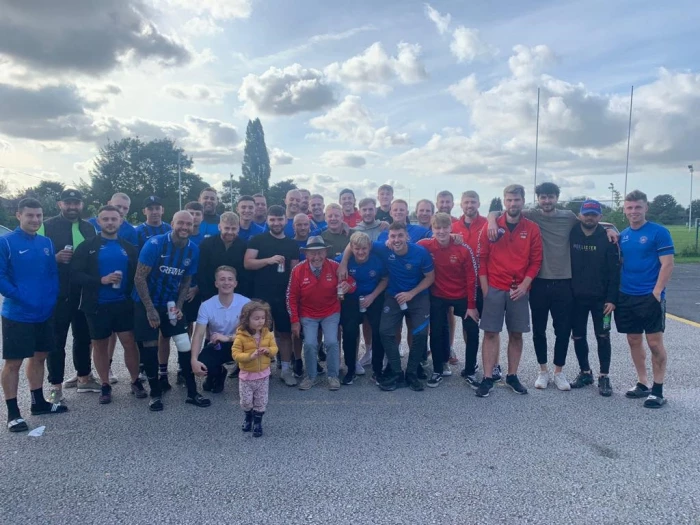 I wonder if you have thought just what chaos would reign if we did not obey Lane discipline , as we drive along the roads of this country . Imagine coming round a tree lined road to come face to face with another vehicle . On your side of the road ! Many years ago my wife Joan and I returned by road from having been away overseas for three months . Driving a fairly large car . Arrive in the U.K. and onto our journey home to Lancashire . Suddenly Joan says "Ralph you are on the wrong side of the road ! " . So I was, such had been the habit of driving for many weeks on the continent . Luckily no advancing traffic .So easily done !
But. The game
We travel by coach to east Manchester to play. Courtesy of Mallbank coaches at a cost of just under £250.To east of the city and near to the river Irwell . To play a cup game versus AFC Dukinfield in the Chesire FA cup. No idea of their strength. We shall see.
Turn out of 14 players, With our strong left winger missing and our superb secretary, who have to be in charge of their daughter's 5th birthday . . And goal scoring Andrew Betteley and super midfielder James Craig. Ross Henderson still out following operation for huge shoulder injury
Set off at 10:00 From Wistaston Club .
Driver paid. Kit etc loaded . Sat Nav set .
Drive on the M6 to Stockport and on towards the river Irwell .
Arrive safe and in good time at 11:15 .
Changing rooms basic but with full showers .
Emma our Physio with us as well as Grace and Jasmin -- partners of Dan Rooney and Stefan Kotowski, both lovely young women .
Referee is Tony Martin. Lectures both teams as to keeping out foul language. Rule in the a cup match , that we can use 3 subs. No roll on roll off.
Pitch longish grass and white lines missing . Large in size and in a housing area with signs saying " no parking for football pitches." We managed to park the coach ok .
Opponents part of the Hyde FA District league and have Paul Scholes as a supporter .
Planes from Ringway roaring overhead and chalking their passage across a blue sky with lovely sun. The gates on holiday travel really open, judging from the long haul jet passing by.
Opponents have 19 players in all plus a big lot of supporters on the line.
12:05 Kick off.
As is the way , much testosterone in evidence as men race hither and thither .
Immediate corner for DFC followed by a free kick.
12:14 Fast run upfield and Paul Bowker sends a sweet fast ball forward to a running fast Nick Gregory -- who fires it home. A great start for us!
1 – 0
12:15 Free kick to us -- no gain
Very vociferous game with much yelling and shouting
Free kick again to us -- no gain .
12:20 Free Kick to DFC -- no gain
Connor Baxter in goal pulls off a very fine save from a close range shot. Tricky shot it was too.
Free kick to us just outside their box. Taken by Paul Bowker but goalie saves his shot.
Player crashes into Connor and the smack as they collide is heard all over the pitch. I fear for him but physio Emma tends to him. All ok.
It is a very combatative match With much strong physical tackling .
Then, right in front of our goal a player shapes up to score -- but totally mis-kicks. Thankfully!
Super cross by Ben Walker is met by Skipper Tom Capewell, but shot goes just wide.
Temperature has dropped a tad as clouds building up .
12:30 Will Cork taken down -- very hard tackle and body check. Thankfully ok
Little fracas and an object thrown at Dan Rooney. Missed by the referee. Testy time now.
Play evens at present.
12:34 Free kick awarded to opposition.
A scramble in front of our goal and -- they score.
1 – 1
Race up field at the restart and a fantastic shot by Nick Gregory hits the cross bar. So near !
Some foul words from their side line subs and supporters reaches my ears. Not nice as
" F...ing tackle the C...ts ". Not called for. Referee either does not hear it or chooses to ignore it.
12:40 Corner to them.
Close header, but ball flies over our crossbar. Dan Rooney on the floor after strong tackle. Emma treats him. All good .
12:43 Free kick and then a corner to DFC as they press hard.
Nick G sends in a lovely ball but goalie saves and saves very well indeed. Free kick after free kick for DFC and then a deflected ball heads into our net.
1 – 2
Half time whistle
Water taken on board as manager Kev Mort, who has been running the line for the ref. -- gives players a pep talk. No change of tactics
Referee appears to know opponents well as he chats to them
Restart .
Second half and away we go. Game 60/40 in their favour. Pressing ever so hard on our defence .
Paul Bowker signals Manager Kev Mort that he is gasping for breath and needs to be subbed
13:25 Free kick and DFC score!
2 – 3
Bowker off as Callum Mese comes on .
Suddenly and out of the blue. The ref awards a penalty for what seems a very tenuous reason . So so soft a penalty. But he is the boss.
They set up and score
2 – 4 .
Ben Walker comes off and Seb Burrows on.
Injury to DFC player on the far side right by the line and our physio Emma is across to give aid. Play stops for a good while. (they have no physio)
Restart as player injured is subbed .
13:37 Kev Mort comes on as Tom Smart comes off with a destroyed boot .
Great cross by Kev Mort is met by an onrushing Nick Gregory as he fires the ball into their net.
3 – 4
Game over .
Much colder now as we troop back to changing room and hot showers .
On to the bus -- and invited back for pizzas at a nearby club with our opponents. Very good crack as much singing and back slapping. See my photo with this report. And a good few beers etc .
Back to the bus and off we go at 15:20 to drive home in very good humour. Singing Sweet Caroline very well. Tip for the driver, as we roll along in good heart after playing very well as a squad.
A toilet break call as we are at junction 19, so pull into the forecourt of an Esso/Costa station. A very happy cashier as all return laden with booze and snacks. Arrive back at our base, the Willaston Club. To more Bon homie and beers etc. Very good day. Very good crack as they say. A superb bunch of players, pulling together with no prima donnas.
Man of the match award goes to Nick Gregory. Great game played by him.
Next game is at home versus Princes Feathers in the league .
Ralph Warburton
Audlem F C .