By Ralph Warburton - 22nd October 2012 8:50am
We played Sandbach Town yesterday on a good weather day although the pitch was a bit sticky from the heavy dew overnight.
Sandbach are a well established team – sponsored no less than by Carlsberg! It was obvious from the whistle that they were going to be very physical, with a smattering of free kicks in our favour.
Twenty minutes in and we were one up with a sweet goal by Tim Seville.
Ten minutes later and Jared Southall-Martin, our goalie, pulled off a superb save to keep us in the lead. Then Sandbach struck with a goal from Perriham. 1-1 .
This was answered in fine form when Tim Seville scored again. We suffered a few injuries from hard tackles – especially James Bebbington and Jared.
But we went in at half time leading 2-1 with Jared playing a really super first half.
Second half saw captain Kev Mort commanding the area with great endeavour and tackling as hard as our opponents and putting himself about well.
Then a goal by Sandbach and it was 2-2, soon followed by a Red card for their number 8 – a real bruiser of a player. It was a hard game and in the last five minutes we were unlucky to have them score again. So 2-3 in the end.
A good game for us and we shaped very well with good discipline on positioning. Jack Maclintoch continues to twist and turn players twice his size with his speed and doggedness. Geoff Stretch, our manager, was much pleased with a better performance and shape.
The match was well refereed by Mr Lindsay – a senior Ref.
After the game an excellent mountain of chips and bread and butter for succulent chip butties was laid on by Jo & Allan at the Lord C. It was much enjoyed by our visitors as we all gathered in the pub.
The comment from the Sandbach manager was that we had given them their hardest game they had faced this season. And this in spite of being only six games together as a team.
Next week we travel to play Cricketers team.
Ralph Warburton Chairman AFC
popular recent storiesAlso in the news
Sat 18 May 6:07am | hits: 1,758
Following on from the award given to me in the Queens birthday honours list last year, I received an invite to the first Royal Garden Party of this season. As my guests I took my two elder granddaughters, Willow and Honesty, who both live in London now as that is where they study and work. My son, Jonathan, father to the girls, dropped us off at the main gates. We walked in presenting our...
Sun 19 May 6:07am | hits: 840
Start of summer planting, it is such good fun -- you know you want to come down today and help out. Flags up.... Plants out for the Bride (and us!)Anyone free tomorrow -- we have Millennium bed planting needing your touch. And a little bit more besides. There will be coffee and chocolates.Many thanksSuzie...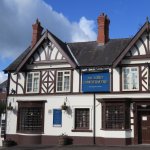 Sun 19 May 6:08am | hits: 768
All three pubs in the village will play an important part in the Festival.So that you can coordinate your drinking and listening to some of the great bands who are appearing at the Festival, please see below the schedule of performances at the Lord Combermere.Schedules for the Bridge Inn and the Shroppie Fly will follow over the next few days.The Lord Combermere..