Secret bin bugs causing outrage
By Audlem Webteam - 30th August 2006 1:40pm
Crewe & Nantwich Borough Council is one of a small number of local authorities using small concealed electronic devices in residents' bins to monitor waste disposal. One Audlem resident contacted Audlem Online when he found a device hidden in his green bin and another in the grey bin. He asks whether his right to privacy has been infringed as he wasn't alerted to the bugs being installed.
This week's Chronicle carries the story as its front page lead with Nantwich residents making similar discoveries and being disturbed by the concept of 'Big Brother watching you'. The Borough Council was named in a TV report on the issue over the weekend and in national newspaper stories.
The Council's Direct Services manager appears to dismiss the concerns as rubbish. David Marren said: "Some people may call these devices 'sneaky' but residents registered to the brown bin scheme have known about them for years. Now all residents have them in their recycling bins. They are not a secret but simply there to record which properties recycle."
The devices are black and round and are fitted into the lids of wheelie bins. It is not known if all bins have been fitted. A quick check in a couple of bins this morning failed to detect any devices but clearly they have been installed in some Audlem bins. Also, as Audlem has never had a brown bin scheme, no-one locally would have known about the use of these bugs.
popular recent storiesAlso in the news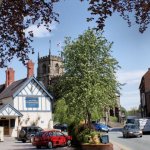 Fri 13 Dec 6:30am | hits: 821
Declared at 5,35amEdward Timpson Conservative 30,085Terry SavageLabour11,652Antoinette SandbachLiberal Democrat 9,582Louise Jewkes Green1,191Andrea Allen UKIP..
Sun 08 Dec 6:09am | hits: 811
CAROLS IN THE SQUARE. 20th DecemberADAS are holding carols in the squareMusic will be by Crewe Brass BandSanta will be there handing out sweets to the childrenThere will be free hot soup supplied by The Lord CombermereSafety barriers loaned by ASETFree carol sheets (please return to ADAS)Donations gratefully...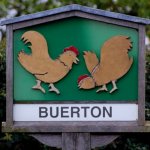 Mon 09 Dec 6:09am | hits: 797
My partner has lost a gold ring set with blue and white saphires. The loss was discovered on Saturday 7th and she last remembers having it when she was at the WI Christmas Party at the Scout Hall on Friday 6th.It could be literally anywhere between there and Buerton. We would be more than happy to reward anyone who finds it and is kind enough to return it to her. It has great sentimental...