By Ralph Warburton - 18th November 2012 7:02am
At our hugely successful Music & Arts Festival last June, we introduced a Poetry Slam evening.
This with some trepidation as we had no idea how it would shape up. In the event the Bridge Inn was packed to overflowing with a string of poets presenting their works before a very appreciative audience and an 'X-Factor ' style panel of judges.
That night, one resident stepped forward, well in to her 70's — and presented a truly lovely number of her own creations.
#Transcriber
As a result of that, I offered to help her in any way I could. The upshot of which is that I have become her own transcriber into typed work. All in all I have now helped with some 17 plus works.
But the most important one to her, was a letter I typed for her and addressed to Her Majesty The Queen and sent off to Buckingham Palace along with an offering of a Jubilee poem especially written for the occasion.
#Reply
Months passed and now the reply is here. As per the images seen here.
Jessie, for it was she who is the poet, is absolutely delighted and all the correspondence is pride of place in her home. Especially the Envelope!
A great story of the talents here in this wonderful village. Jessie, of course, will once more present her poems at our planned Poetry Slam next May at the 2013 Festival.
popular recent storiesAlso in the news
Sat 18 May 6:07am | hits: 1,758
Following on from the award given to me in the Queens birthday honours list last year, I received an invite to the first Royal Garden Party of this season. As my guests I took my two elder granddaughters, Willow and Honesty, who both live in London now as that is where they study and work. My son, Jonathan, father to the girls, dropped us off at the main gates. We walked in presenting our...
Sun 19 May 6:07am | hits: 840
Start of summer planting, it is such good fun -- you know you want to come down today and help out. Flags up.... Plants out for the Bride (and us!)Anyone free tomorrow -- we have Millennium bed planting needing your touch. And a little bit more besides. There will be coffee and chocolates.Many thanksSuzie...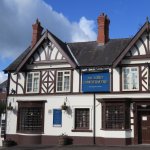 Sun 19 May 6:08am | hits: 769
All three pubs in the village will play an important part in the Festival.So that you can coordinate your drinking and listening to some of the great bands who are appearing at the Festival, please see below the schedule of performances at the Lord Combermere.Schedules for the Bridge Inn and the Shroppie Fly will follow over the next few days.The Lord Combermere..