Update on airbnb in Audlem
By Kate Pocock - 17th September 2020 6:09am
Apartment One Audlem
We are delighted to now have a number of 5* Airbnb reviews after a busy start to our apartment lettings at the courtyard at Number 11. Apartment One is a newly refurbished, two bedroom, interior designed first floor apartment in the heart of the village.
We have welcomed a number of guests to the apartment who have all commented on how lovely Audlem is and how much they have enjoyed the area and it's surroundings.
One of our guests said:
"Audlem itself is a great, friendly village with all the amenities you could want and surrounded by amazing countryside, lovely canalside walks and many day trips which we made the most of"
Another 5* reviewer commented:
"We are a couple and spent 3 nights in this lovely apartment. It is very modern, clean and comfortable and has everything you will need for a great stay."
The apartment has also been booked by Audlem residents who were hosting family for the weekend.
If you would like to book Apartment One, whether for a holiday, to find a quiet space to work, to avoid the chaos of home rennovations, or you are in the unfortunate position of having to self-isolate, please feel free to contact us directly on 07557 353122 to discuss your requirements. If you would prefer, we are happy to take direct bookings rather than via Airbnb.
We are currently following the enhanced cleaning protocols guidelines set by Airbnb and provide disinfectants and sanitisers as per their recommendations. We feel absolutely confident that we are a Covid secure environment.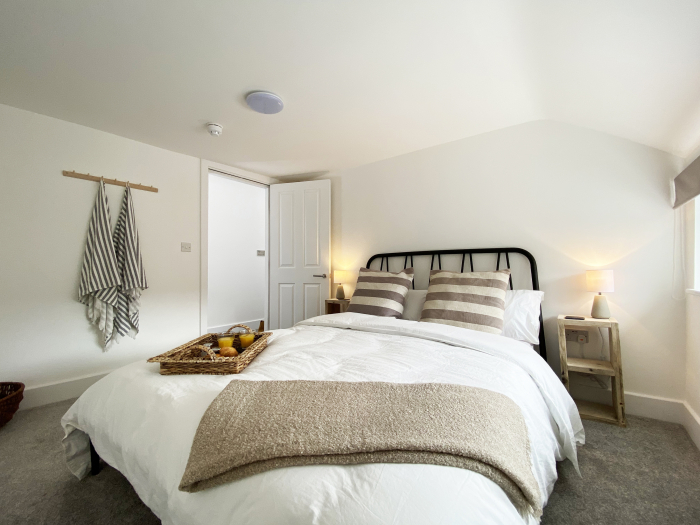 The apartment has been beautifully designed and renovated to exacting standards in a scandi-chic inspired clean and modern finish. Sleeping up to 5, the apartment has an open plan kitchen/living area which enhances the nordic feel and complements white-washed walls and quirky ceilings. Fitted out with all new modern appliances, Nespresso coffee machine, Smart TV and WIFI, we have also used many local small businesses to stock it with treats from Harrys Hot Chocolate to cleaning products from the eco hut in Calverhall.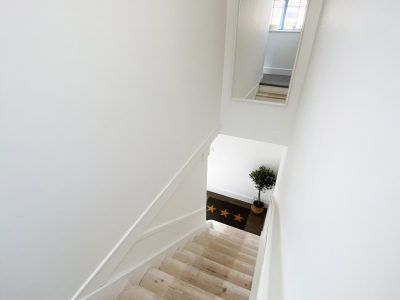 Sitting pretty above the courtyard the apartment is a warm and welcoming space, much like the leafy village below. Access to the property is through Number 11, a small, pretty courtyard of some of Audlem's favourite shops, including Oxtail & Trotter, Eleventh hour Gift shop, the Post Office, and our award-winning Farm Made cafe. Parking for the apartment is available on the street or in the public carpark.
Prices start from £95 per night and can be booked via; apartmentone_number11@outlook.com or through airbnb at www.airbnb.com/h/apartmentoneaudlem.
We are also available for half/day hire if you are looking for somewhere to host an event.
Please get in touch with Lesley on 07557 353122 for further information and to discuss how we can help you.
+44 (0)7815 808981