By Ralph Warburton - 7th October 2018 6:06am
I show here the two new flags made by the flag maker who supplies the Armed Forces , Royal Houses and Government buildings . They are 9 feet in length and of high quality which should mean they will last a while.
The response to my appeal has been wonderful and over 50 individuals have donated or pledged their support in terms of cash or cheque. There will be a surplus of these funds and I will advise later what is to be done with this.
Meantime, I have handed the two flags over to Mr Collis-Smith who is responsible for the raising and lowering of the flags on the church flag pole -- which , by the way, was provided years ago by the Parish Council.
I have offered my help to go on the roof of the church to help Mr Collis- Smith whenever he intends to raise the first -- which will be the cross of St George , flag of England .
Sincere thanks to all good folks who stepped up to the plate in responding to my appeal.
Ralph Warburton
popular recent storiesAlso in the news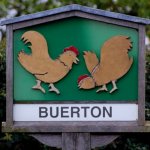 Mon 09 Dec 6:09am | hits: 785
My partner has lost a gold ring set with blue and white saphires. The loss was discovered on Saturday 7th and she last remembers having it when she was at the WI Christmas Party at the Scout Hall on Friday 6th.It could be literally anywhere between there and Buerton. We would be more than happy to reward anyone who finds it and is kind enough to return it to her. It has great sentimental...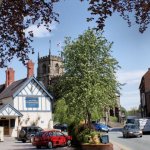 Fri 13 Dec 6:30am | hits: 783
Declared at 5,35amEdward Timpson Conservative 30,085Terry SavageLabour11,652Antoinette SandbachLiberal Democrat 9,582Louise Jewkes Green1,191Andrea Allen UKIP..
Sun 08 Dec 6:09am | hits: 781
CAROLS IN THE SQUARE. 20th DecemberADAS are holding carols in the squareMusic will be by Crewe Brass BandSanta will be there handing out sweets to the childrenThere will be free hot soup supplied by The Lord CombermereSafety barriers loaned by ASETFree carol sheets (please return to ADAS)Donations gratefully...