By Webteam - 25th April 2019 6:01am
Pigeons Come Home to Roost
During the 1840s, the railway network spread across Europe, bringing in its wake a telegraph system that meant that news could be sent far more quickly than the traditional man-on-horseback.
In 1849 Aachen (usually the first name in any atlas gazetteer) was connected by rail, and therefore telegraph, to Berlin, but there was then a gap to cross to get to the Brussels-Paris line and from there to the rest of France.
This provided an ideal scenario for Julius Reuter, a so-far-unsuccessful entrepreneur, to set up a carrier pigeon service to bridge the gap.
His long-suffering wife, Clementina, would take the pigeons to Brussels to be released carrying their vital news (mainly financial stock market stuff) back to Aachen and so on to Berlin.
The service started on April 25th 1850 and lasted until proper telegraph links were established in October 1850, but by then the Reuters had gathered enough cash to survive until the transatlantic cable between London and the United States was completed (and, to many peoples' surprise, actually worked) and the Reuters News Agency was really in business.
popular recent storiesAlso in the news
Sun 19 May 6:07am | hits: 848
Start of summer planting, it is such good fun -- you know you want to come down today and help out. Flags up.... Plants out for the Bride (and us!)Anyone free tomorrow -- we have Millennium bed planting needing your touch. And a little bit more besides. There will be coffee and chocolates.Many thanksSuzie...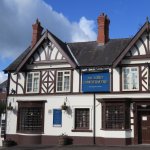 Sun 19 May 6:08am | hits: 778
All three pubs in the village will play an important part in the Festival.So that you can coordinate your drinking and listening to some of the great bands who are appearing at the Festival, please see below the schedule of performances at the Lord Combermere.Schedules for the Bridge Inn and the Shroppie Fly will follow over the next few days.The Lord Combermere..
Wed 22 May 6:09am | hits: 728
Gift retailer, Williams of Audlem, has just scooped a retail "Oscar" for best Independent Gift Retailer of the Year for the UK's North, and Northern Ireland region. Pictured above is owner/ manager, Judy Evans receiving her trophy at the awards ceremony at the glittering Grosvenor House Hotel, London's Park Lane on May 15th.Hundreds of guests made a beeline to see the...