By Webteam - 23rd April 2019 6:01am
The ZX Spectrum is an 8-bit personal home computer released in the United Kingdom on April 23rd 1982 by Sinclair Research.
Referred to during development as the ZX81 Colour and ZX82 it was launched as the ZX Spectrum by Sinclair to highlight the machine's colour display, compared with the black and white of its predecessor, the ZX81 The Spectrum was released as eight different models, ranging from the entry level with 16 KB RAM released in 1982 to the ZX Spectrum +3 with 128 KB RAM and built in floppy disk drive in 1987; together they sold over 5 million units worldwide (not counting clones).
The Spectrum was among the first mainstream-audience home computers in the UK, similar in significance to the Commodore 64 in the US. The introduction of the ZX Spectrum led to a boom in companies producing software and hardware for the machine, the effects of which are still seen. Some credit it as the machine which launched the UK IT industry. Licensing deals and clones followed, and earned Clive Sinclair a knighthood for "services to British industry".
The Commodore 64, Dragon 32, Oric-1, Oric Atmos, BBC Micro and later the Amstrad CPC range were rivals to the Spectrum in the UK market during the early 1980s. While the machine was officially discontinued in 1992, new software titles continue to be released — over 40 so far in 2019.
popular recent storiesAlso in the news
Sun 19 May 6:07am | hits: 848
Start of summer planting, it is such good fun -- you know you want to come down today and help out. Flags up.... Plants out for the Bride (and us!)Anyone free tomorrow -- we have Millennium bed planting needing your touch. And a little bit more besides. There will be coffee and chocolates.Many thanksSuzie...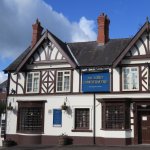 Sun 19 May 6:08am | hits: 778
All three pubs in the village will play an important part in the Festival.So that you can coordinate your drinking and listening to some of the great bands who are appearing at the Festival, please see below the schedule of performances at the Lord Combermere.Schedules for the Bridge Inn and the Shroppie Fly will follow over the next few days.The Lord Combermere..
Wed 22 May 6:09am | hits: 728
Gift retailer, Williams of Audlem, has just scooped a retail "Oscar" for best Independent Gift Retailer of the Year for the UK's North, and Northern Ireland region. Pictured above is owner/ manager, Judy Evans receiving her trophy at the awards ceremony at the glittering Grosvenor House Hotel, London's Park Lane on May 15th.Hundreds of guests made a beeline to see the...