By Paul Moran - 27th May 2020 6:08am
The last of Paul Moran's recollections of the early years of the Audlem Festival, the Town Hall Years 2001 to 2006.
Last week end should have been celebrating 20th Audlem Music Festival #20in2020 but sadly this amazing festival is another victim of the dreaded virus. It will be back but #20in2020 won't so I thought I would look back on the first 6 years, when I ran the festival — The Town Hall Years.
Year six 2006
Ralph Warburton, Liz Haughey, Pete Marshall, Ian Haughey, Beamans Audlem, audlumonline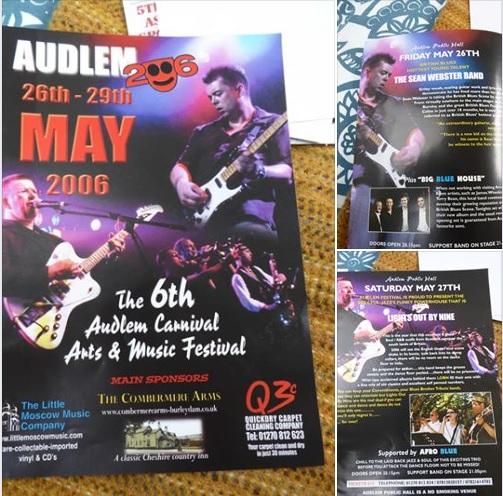 After the number of Town Hall gigs since the 2004 festival we just took 2006 in our stride & failed perhaps to notice the shift in festival behaviour that was happening. The village itself was packed from Friday to Monday evening enjoying over 25 free gigs in various venues, 10 artists exhibiting & 6 special events for children.
The Town Hall gigs were The Sean Webster Band supported by Big Blue House on the Friday, whilst Saturday saw Scottish band Lights Out By Nine with their North of the border soul/funk superbly supported by AfroBlue. Both gigs were musically excellent & great nights out but for the first time we didn't have a sell out. Yet in the village the crowds had continued to grow.... Maybe it was time for a re-think & perhaps Olive's new floor in the Town Hall would help us along the way.
This, was my last festival as me & Clare moved back north at the end of 2006. No more chasing bands, selling tickets, Clare cooking meals for bands. Although I didn't miss the pressure I was so pleased others took it on, gave it the change of direction it needed & took it on to new levels. I returned in 2015 to the most amazing free village festival I had ever been to... I was so proud to have had a small part in getting it all going 15 years before
So the "Town Hall Years" were over but Audlem Festival continues to flourish. Till next year & a few beers, good music & excellent company!
popular recent storiesAlso in the news