Audlem Festival 2004 & 2005
By Paul Moran - 26th May 2020 6:08am
Continuing Paul Moran's recollections of the early years of the Audlem Festival, the Town Hall Years 2001 to 2006,
This week end should have been celebrating 20th Audlum Music Festival #20in2020 but sadly this amazing festival is another victim of the dreaded virus. It will be back but #20in2020 won't so I thought I would look back on the first 6 years, when I ran the festival — The Town Hall Years.
Year Four 2004
Ralph Warburton, Ian Haughey, Pete Marshall, Liz Haughey, Beamans Audlem, audlemonline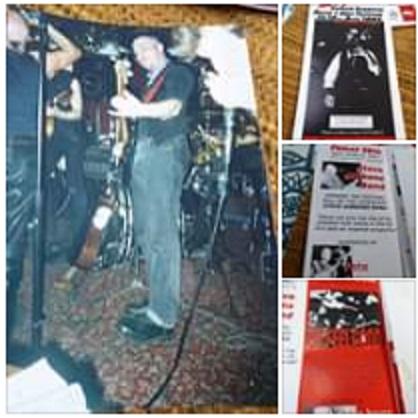 Year four 2004: the build up to the festival in 2004 was a sad affair as we dealt with the loss of one of Audlem favourite sons Peter Hardy. Bass player for a number of local bands, great supporter of the festival & local music scene, Thursday nights in the Lord Combermere & weekends in the Shroppie Fly seemed oddly quiet.
The festival continued to grow & increase the number of visitors. Year four saw even free gigs across Bridge Inn, Shroppie Fly, Lord Combermere & Blues Alley. There was an increase in art exhibitions, St. James & the Methodist Chapel both being used for music & arts, with music events for young people, drama & of course the Town Hall gigs
Friday saw the Steve Gibbons Band play an almost sell out set supported by acoustic blues man Peter Price.
Saturday we'll we could have sold it out twice over as firstly local favourites Big Blue House warmed us up before Dr Feelgood tore us apart with an extraordinary set of hard core R&B all the way from down on the jetty in Canvey Island.
What a night, what a week end, what a tribute to a sorely missed bass man
Year Five 2005
Ralph Warburton, Pete Marshall, Ian Haughey, Liz Haughey, Beamans Audlem audlumonline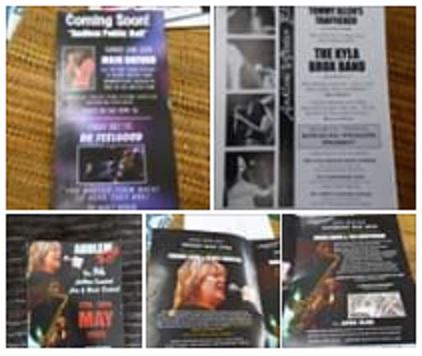 This was an incredible busy time for us as a festival team as we ran events to raise funds & to feed the appetite for live music from locals. In the 12 months either side of the festival we put on a memorial gig for Pete Hardy (featuring Zyder Commotion, Big Blue House, Grout Band, Billy Gibbons Band. maddog, brought back DrFeelgood for another sell out gig as well as concerts by Slack Alice, Climax Blues Band, Kylabrox, Ttrafficker & Mojobuford — Audlem was really rocking.
The 2005 festival was possible my favourite town hall line up of all as Friday saw British Blues Female singer of year after year Connie Lush & her band produce a stunning set of old & New classics. The support on the night was provided by local young band Defence with an excellent hard driven set of 21st century punk..
Saturday saw Northern Soul take over the festival as Snake Davis, late of M People, roll onto town with his band The Suspicians & for 2 hours I never stopped dancing.... A set full of energy, full of memories full of soul.
Next stop 2006 & my final festival.....