Audlem Festival 2002 & 2003
By Paul Moran - 25th May 2020 6:08am
Big mistake by the editor yesterday — The first six years of the Audlem Festival were credited to Pete Marshall in yesterday's article — it should of course have been to Paul Moran who ran the Festival for the first six years. Apologies to both gentlemen. — Ed
This week end should have been celebrating 20th Audlem Music Festival #20in2020 but sadly this amazing festival is another victim of the dreaded virus. It will be back but #20in2020 won't so I thought I would look back on the first 6 years, when I ran the festival — The Town Hall Years. Yesterday we started in 2001. Now read on.....
Year Two 2002:
Ralph Warburton, Ian Haughey, Liz Haughey, Pete Marshall, Beamans Audlem, audlumonline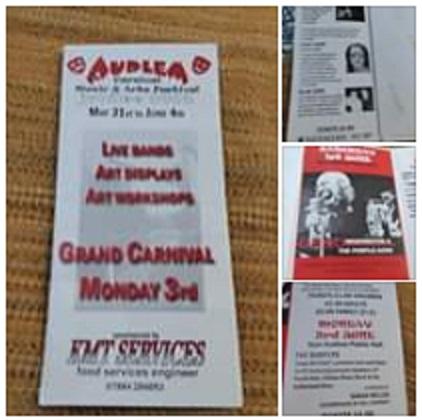 After the success of year one decided to experimented in year two with a folk night on the Friday, soul/R&B name on the Saturday and a extra night on the Monday
Friday drew a crowd of just under 100 to be entertained by local legends Blue Cafe providing excellent support to Anna Ryder & David Hughes, both superbly supported by band members Gerry Conway & Jacqui McShee.... Its only when your clearing up you realise what folk rock royalty had grace the Town Hall stage that evening and the friendly festival tag appeared as Anna got the chocolate in her rider & Clares "band food" started to appear!!
Saturday saw the hall shaken to its foundations as a packed house enthusiastically welcomed the unbelievable Geno Washington & his Band.... Rocking R&B at its best. The night also saw Jim Kirkpatrick, Audlum favourite, produce a solo support slot at very short notice (I forgot to book a support act) & you could see the greatness oozing out of every note..... Huge problem!! How do we follow this in 2003?
Monday saw the Barflys & a great session but maybe one night too far..... Best get planning 2003........
Year Three 2003
Ralph Warburton, Ian Haughey, Liz Haughey, Pete Marshall, Beamans Audlem, audlumonline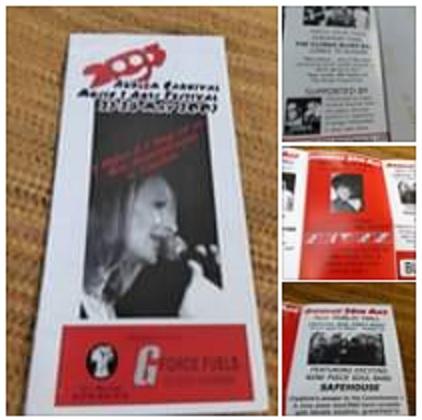 The festival was now embedded in the village programme & was beginning to gain its friendly festival tag & attract a growing number of visitors to the village. Year three saw over 20 free gigs across the Bridge Inn, the Shroppie Fly, the Lord Combermere and Blues Alley. There were also art exhibitions, with music, events for young people, drama & of course the Town Hall gigs.
Friday saw a sellout event as climatebluesband added Audlem to their European tour & started festival weekend off with a bang. Great support from Sarah Miller, still a festival regular, & #mrwill
If Friday went with a bang Saturday was almost over in a flash as after an stunning opening set from Jim Kirkpatrick the sensational International R&B singer Ruby Turner took the stage with her band..... & blew the electrics!!! A sell out crowd waited patiently as every electrician in the house tried to resolve the problem before Ruby returned to the stage & gave a performance that shook the village & ended in the early hours of Sunday morning.
Monday proved the last Monday gig we did as, again it seemed a step too far & Safehouse played to a near empty hall.
And as the Third Audlem Festival ended the planning for number four started........