By Cub Reporter - 18th October 2020 6:05am
Cub Reporter was out for a cycle ride, first obstacle was the hill to Norton in Hales, when a very polite motorist waited for me panting up the steep bit! Surprised to see a near neighbour — Celia Bloor — and hear her tell me she normally gets off and walks that bit!
Onwards to Mucklestone, where I stopped to check my map for the route ahead, and took the 2 photos by the church (St Marys). the first one was on the house opposite (the Old Smithy), and when I turned round, took the second in the churchyard — somewhat surprised.
Mucklestone was where Queen Margaret watched in safety the Battle of Blore Heath (about 2 kilometres as the crow flies), and when things were not going so well, couldn't find a fast retreat reverse gear on her horses, so implemented the cunning plan related on the wall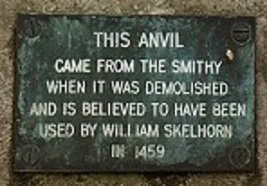 popular recent storiesAlso in the news