Audlem FC's first cup match
By Ralph Warburton - 5th November 2012 7:04am
Yesterday, we played our first Cup Tie in the Crewe FA Concorde Sunday Vase competition.
Our game was played at Malbank School even though we were drawn at home – but the potential dangers following bonfire night of nails etc, meant we had to play away.
Our opponents were Acton Star of Acton. We, ofcourse, are the tiniest of fish in the barrel, being way down at the bottom of all the clubs in the competition.
With a Referee named Kevin Crump, we began the game hoping for some "crumbs" of comfort from him in controlling the match well.
A very heavy sticky pitch – and an oversize one as well. Changing rooms miles away from the pitch.
Kick off in good sunshine but a keen wind chill factor. Opponents big fellows with quite a wide fruity vocabulary. We have no regular goalkeeper – injury and work commitments – so Rob Lowe steps into the position.
He pulls off good saves but 20 minutes in and we are down by a goal. Good response by us and then Kev Mort strikes and scores a good goal. So 1-1.
Five minutes later and Acton given a penalty. They miss! Shooting wide – just like Rooney. But then Acton score again. In at half time being 2-1 down.
Tired feet from the cloying conditions of the surface.
Second half, and they score very quickly. 3-1. 20 minutes later it's 4-1. Our manager plays his subs as injuries mount. On comes McClintoch, Brookes and then Dan Lowe. But to no avail and the final whistle goes – we lose 6-1. So out of the Cup.
Next week we are away to Crewe Town. Learning all the time.
popular recent storiesAlso in the news
Sun 19 May 6:07am | hits: 848
Start of summer planting, it is such good fun -- you know you want to come down today and help out. Flags up.... Plants out for the Bride (and us!)Anyone free tomorrow -- we have Millennium bed planting needing your touch. And a little bit more besides. There will be coffee and chocolates.Many thanksSuzie...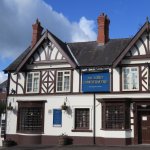 Sun 19 May 6:08am | hits: 778
All three pubs in the village will play an important part in the Festival.So that you can coordinate your drinking and listening to some of the great bands who are appearing at the Festival, please see below the schedule of performances at the Lord Combermere.Schedules for the Bridge Inn and the Shroppie Fly will follow over the next few days.The Lord Combermere..
Wed 22 May 6:09am | hits: 728
Gift retailer, Williams of Audlem, has just scooped a retail "Oscar" for best Independent Gift Retailer of the Year for the UK's North, and Northern Ireland region. Pictured above is owner/ manager, Judy Evans receiving her trophy at the awards ceremony at the glittering Grosvenor House Hotel, London's Park Lane on May 15th.Hundreds of guests made a beeline to see the...