Amazing Grace off to flying start
By Webteam - 11th December 2014 6:09am
The Mend our Mum video of 1,100 local people singing 'Amazing Grace' is off to a flying start.
Two BBC radio stations, Radio Stoke and Radio Shropshire, gave glowing reviews during interviews with Ralph Warburton yesterday morning. And we understand that TV is heading to the village this morning.
Those that have seen it have been overwhelmed by the quality of production and the sheer emotional impact of the film.
Perhaps the most important comment of all is from Berni Cliffe, the Mum we all want to Mend. She said:
"Wow. Fantastic. I cried and cried and cried. Thank you so much, can't stop watching it. So many clever, kind, caring, talented people we all know. I know how fortunate I am to have you all."
Down in Pembrokeshire, Audlem Music Festival supporter, Reub Palin, said: "I sat in a police station with a load of cops and watched it and cried." He is a policeman, by the way, he wasn't under arrest for an undue show of emotion on the street!
And top local musician, Jim Kirkpatrick added: "Cool. So impressed with the video it should be seen by as many as possible." And it has to be added that in the clips played on the radio this morning, Jim's guitar playing sounded amazing — and was commented on by the interviewer.
Moves are now underway to get both the audio track and the video onto the likes of iTunes and other media sources.
And the video is getting around on Facebook etc. If you copy and paste the following on Facebook so all your contacts see it, it could make all the difference:
"How's this for a community effort to raise money for a local cancer victim in Audlem? Mend our Mum video! Please watch it and if you can help by donating or simply spreading the word to everyone you know, that would be great. I think you will enjoy this very special short film which is on YouTube at: https://www.youtube.com/watch?v=FZjU-dCJncE ."
By the wonders of technology, the minute you do so, up pops the video all ready for your friends to enjoy, and hopefully pass on too to their friends and contacts.
We will publish when and where you can buy the DVD as soon as we know. What we do know is, if you think the YouTube version looks good, the DVD quality is stunning.
Update: Overnight, YouTube views doubled, with over 3000 people having now watched
popular recent storiesAlso in the news
Sun 19 May 6:07am | hits: 847
Start of summer planting, it is such good fun -- you know you want to come down today and help out. Flags up.... Plants out for the Bride (and us!)Anyone free tomorrow -- we have Millennium bed planting needing your touch. And a little bit more besides. There will be coffee and chocolates.Many thanksSuzie...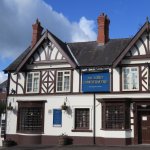 Sun 19 May 6:08am | hits: 778
All three pubs in the village will play an important part in the Festival.So that you can coordinate your drinking and listening to some of the great bands who are appearing at the Festival, please see below the schedule of performances at the Lord Combermere.Schedules for the Bridge Inn and the Shroppie Fly will follow over the next few days.The Lord Combermere..
Wed 22 May 6:09am | hits: 728
Gift retailer, Williams of Audlem, has just scooped a retail "Oscar" for best Independent Gift Retailer of the Year for the UK's North, and Northern Ireland region. Pictured above is owner/ manager, Judy Evans receiving her trophy at the awards ceremony at the glittering Grosvenor House Hotel, London's Park Lane on May 15th.Hundreds of guests made a beeline to see the...