Audlem is well equipped with facilities for visitors with a large free car park, a Tourist Information Centre in the newsagents on the Square, public toilets etc.
There are large dioramas at the car park and at Audlem Wharf with detailed maps showing local shops and points of interest. The canal has a series of interpretation boards along the towpath describing how the canal was built, how locks work and much about life on the canal.
The interactive map on the homepage of AudlemOnline shows were all the attractions can be found plus a street gazetteer to help you find anywhere in the village.
Parking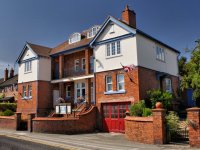 There is a large free public car park off Cheshire Street next to the Public Hall. The car park is approximately 130m from the village centre. There is access to the canal at the Shroppie Fly by crossing the football pitch and descending the new public footpath and steps near the western side of the tennis courts. Otherwise, the canal can be reached by going to the village centre and turning right along Shropshire Street until you reach the Bridge Inn.
The three village pubs have car parks for customers and there is limited on-street parking for those shopping in the village centre. Special car parks are provided for some of the larger events such as Proms on the Park. Look out for signs as you enter the village for these events.
Food, Drink, Shops
Cafés
The Old Priest House
In the Square opposite St James Church entrance and in the same premises as the famous Beaman's shop, it is one of Audlem's best known businesses and a favourite stopping off point for cyclists, walkers and other visitors and residents for breakfasts and meals, sweets and ice creams. Open all day except Tuesdays. Tel: 01270 811749
JA's Café
Located in the courtyard at Number 11 Cheshire Street, opposite Audlem's car park. With outside decking, courtyard seats, and space for bikes and dogs welcome (always a dog treat available). JA's serves a wide range of homemade dishes, including cakes, scones, breakfast, lunch and now with the added benefit of a drinks licence, you can enjoy a glass of Prosecco, wine, beer or cider. Afternoon teas are also available, but need to be pre-booked as all cakes are individually made. Opening times are:- Mondays closed (open on Bank Holidays 10.00am- 4.00pm) Tuesday to Friday 9.30am-4.30pm Saturday 9.15am- 4.30pm Sunday 10.00am- 4.00pm. Tel: 01270 811488 or 07716 259203.
FineFoodies Deli and Cafe
In the centre of the village, the addition of the Café within the Deli has given it a busy friendly atmosphere, and now offers an 'eat-in' or take-away option. As a Snapes Bakery outlet, we have fresh bread, cakes and savouries delivered daily. Local Eggs and Rapeseed Oil. Other suppliers are: Cottage Delight & Tracklements pickles and preserves, Patchwork Pate and we still do a wide range of homemade produce, cakes and savoury pies. Our Take Away Sandwich Bar offers the best bespoke sandwiches both hot and cold. All enquiries welcome. Telephone 01270 811554. Opening hours 9am — 4pm Monday to Saturday, 10am — 4pm Sunday
Coffee Lounge at Overwater Marina
The Coffee Lounge building has a prime position next to the canal with doors opening on to a terrace overlooking the canal and fields. Open 10.00am — 4.00pm in summer month — except Wednesdays when. In winter open from Thursday — Sunday. There are comfortable sofas and a log burner for winter walks. All home-made light lunches and cakes and the same friendly service. Tel: 01270 811212.
Pubs
The Bridge Inn
Recently been completely refurbished and is a welcoming family pub and restaurant run by licensees Gary & Vicky. Superb cask conditioned Marstons Ales, premium lagers, wines and beverages. It also offers an extensive menu of dishes with special menu offers each day. There's a large conservatory and an outside seating. Terrace overlooking the Shropshire Union canal. Monday evening features the well attended folk jamming session with a wide range of musicians and instruments featured. Tel: 01270 812928.
The Lord Combermere
Allan and Jo Brown welcome you to The Lord Combermere where we believe in wholesome, hearty and traditional food, served with a touch of flair and a spark of imagination. The family run, village pub and restaurant is a popular stop with tourists. Our chefs are always looking for the very best local ingredients and work hard to create extra special dishes just for you. We offer excellent cask conditioned real ales and a
selection of fine wines, ciders and beers... and the proper pub experience. Tel: 01270 812277
The Shroppie Fly
Attractively situated next to the canal and has extensive outdoor seating next to the water. A wide range of cask ales is available as well as a full range of pub drinks. Food is available all day. The Shroppie Fly hosts music on most Saturdays. Tel: 01270 812379.
Takeaways
The Village Chippy
Located in Cheshire Street, the Village Chippy serves top quality traditional fish and chips plus a large range of other take-away food and soft drinks. Lunch time opening 11.30am — 1.45pm, evenings 4.30 — 8.00pm, or 8.30pm on Fridays. Tel: 01270 811777.
Kebab Land
In the village centre in Shropshire Street, Kebab Land is open daily from 4.00pm for fresh kebabs, burgers and a range of pizzas made with freshly prepared pizza doughs. Open 7 days a week, including Bank Holidays. Telephone orders are welcome on 01270 812226
Shops:
There's a wide range of shops in Audlem. We have picked the following which may be of particular interest to visitors. There's details of all Audlem's shops in the AudlemOnline Directory under Businesses/Shops:
Newsagent
William's Newsagents is open everyday except Christmas Day from 5.30am and sells a huge range of newspapers, confectionary, DIY goods, tourist information, gifts, including many Audlem gifts, coal and kindling etc etc. Tel 01270 811210.
Post Office
Post Office facilities are now available at Lllovelys, 11 Cheshire Street, Audlem
Supermarket
The Co-operative Food Store: Audlem's own 'small supermarket' with a wide range of food, beers, wines and spirits and household goods. Open everyday from 7.00am til 10.00pm except Christmas Day.
Ice Cream and Chocolates
LLLovely sells Snugburys Famous Ice Cream and Fabulous Fine Chocolates. At 11 Cheshire Street, Audlem We pride ourselves on serving Snugburys Famous Ice Cream both scoop and take home packs, alongside our truly LLLovely Fine Chocolate. Tuesday to Saturday 10.00 'til 5.00 Sunday 10.00 'til 4.00. Tel: 07948 189942.
Pharmacy
Audlem's Boots chemist is in Cheshire Street, next to the Church. Refurbished by Boots in August 2009, it sells pharmaceuticals, toiletries, cosmetics, gifts and dispenses prescriptions. The pharmacist is happy to provide pharmaceutical advice. Prescriptions from the Audlem Medical Practice can be collected already dispensed from Boots in Audlem. Opening hours are: Monday — Friday: 9.00am — 1pm and 2.00pm — 6.00pm Saturday: 9.00am — 1.00pm Sunday: Closed. Tel: 01270 811245.
Canal Shop
Audlem Mill Shop at the Canal Wharf consists of two distinct shops. The ground floor of the Mill is a canal, book and gift shop, whilst the first floor has an emphasis on needlework, including many forms of embroidery, and haberdashery, rag rugging, crochet etc. There are comprehensive book sections, largely canal and needlework related.
A feature is the regular art displays and exhibitions, with canal and textile art, and other work, from artists from the Audlem area and further afield. The opening hours from 1 March to October half term are seven days a week from 9.00am to 5.00pm, then 10.00am to 4.00pm until Christmas. Closed from Christmas to the end of February. tel: 01270 811059.
Butchers
In Cheshire Street, 100 yards from the Square and opposite Audlem car park, Oxtail and Trotter opened in July 2012. Their meat is sourced very locally — they try to use local farmers to supply the beef & lamb & pork, using some of their own grass fed lamb when available.
The meat range is temptingly sumptuous and beautifully displayed with fine cuts of meat, homemade sausages, hand pressed burgers, dry cured bacon, pies, sausage rolls, free range eggs and so much more.
Other specialty suppliers include The Sauce Queen, Coopers Gourmet Sausage Rolls, Great Berwick Organics, Hawkshead Relish & Patchwork Pate. Opening hours 8.30am — 6.00pm Monday — Friday 8.30am — 4.00pm Saturday. Tel: 01270 811793 or 07815 808981.
Eleventh Hour Gift Shop
Located in the courtyard opposite the Audlem Car Park, The Eleventh Hour Gift Shop opened just before Christmas 2016. The shop stocks a wide range of sumptuous gifts for everyone — including pets!
Opening times: Monday — Closed, Tuesday — 10:00am — 4:30pm, Wednesday — Closed, Thursday — 10:00am — 4:30pm, Friday — 10:00am — 4-30pm, Saturday — 10:00am — 4:30pm, Sunday (from April) 10:30am — 2:30pm
Tel: 01270 811100
Tourist Information Centre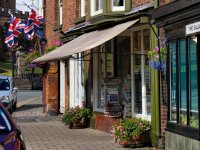 Information on local attractions and things to do can all be found at Audlem's Tourist Information Centre at Williams' newsagents in the very centre of the Village.
Ordinance Survey Map Explorer 257 covering much of South Cheshire, Audlem's own map of Parish Paths, a free leaflet detailing six local walks with maps, and other maps and guides are available.
You can get practical help and buy gifts, newspapers and magazines and much more. A range of Audlem gifts has been developed which are available at the Williams Newsagents/Tourist Information Centre and Post Office in the village centre and the Mill Shop on Audlem Wharf. Check out the new Audlem tea towels, jigsaws, coasters, postcards and the rest of the range.
Toilets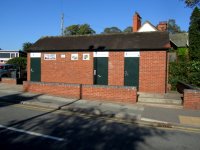 Public toilets, including disabled facilities, are located at the entrance of the car park off Cheshire Street. Portaloos are often provided when major events are being staged.
Audlem's public toilets were taken over by Audlem Parish Council in 2011 after they had been closed by Cheshire East Council. Funding was obtained from Cheshire East, however, and the toilets were completely refurbished that year, such an unusual occurrence that this work was featured nationally on BBC's The One Show. They have been award a Gold at the Loo of the Year awards and are cleaned and serviced daily.
Audlem Online
The award winning website carries news on all village events, as well as daily news and information on clubs, societies, businesses. The Events gives details of forthcoming events while the Galleries show photos of many of them.
Electronic Screens
Seven electronic screens in the Post Office, William's newsagents, shops, pubs and at Overwater Marina give information of village events.